Adding a Picture to a Word 2007 Document
Adding a Picture to a Word 2007 Document
If you have a picture or some other kind of image or graphic file on your computer that you want to add to a Word 2007 document, Word lets you insert the file right on the page. These steps show you how:
1

Move the cursor to the page on which you want to add a picture.

Wherever the cursor is, that's where the picture is going to be placed.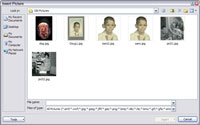 2

Open the Insert tab on the Ribbon and click the Picture button in the Illustrations group.

This step summons the Insert Picture dialog box.
3

Browse through the folders and files on hard drive until you find the picture or graphic that you want.

The Insert Picture dialog box has all the controls you need to find the file: Just click the icons at the left side or click the Look In drop-down list to specify a location where you want to search.