How to Use the Thesaurus in Excel 2007
How to Use the Thesaurus in Excel 2007
Excel 2007 includes access to a thesaurus via the Research task pane if you need to find a word with a similar meaning to a word that exists in your worksheet. Using the thesaurus is pretty easy.
1

Select the word you want to replace with another word.

If multiple words appear in the cell, double-click the cell and then drag over the word you want to look up.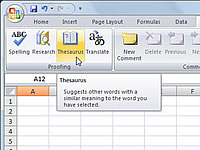 2

Click the Thesaurus button in the Proofing group on the Review tab.

The Research task pane opens with a list of suggestions.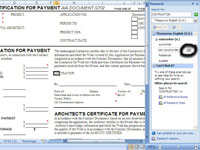 3

Point to the word that fits best as a replacement and click the arrow next to the word.

A drop-down list of options appears.
4

Choose Insert.

Excel replaces the highlighted word with the new word.