Annotating with Text Boxes in Excel 2007
Annotating with Text Boxes in Excel 2007
Text boxes in Excel 2007 are graphical boxes that you can use to add explanatory text or commentary to a worksheet or chart. Text boxes can be positioned wherever you like and can be formatted to match the chart or worksheet data that they accompany.
1

On the Insert tab, click the Text Box button in the Text group.

The mouse pointer looks like an upside-down cross.
2

Click and drag diagonally on the worksheet (or in a chart) to draw the box the size you want.

A blinking cursor appears inside the text box.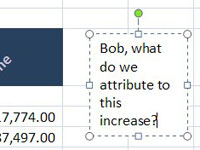 3

Type the desired text.

The text wraps when you reach the right side of the box. Press Enter as you type if you want to begin a new line.
4

Click outside the text box to deselect it.

The selection handles disappear and the text box contains the typed text.