How to Start a New Word 2010 Document
How to Start a New Word 2010 Document
When you start your word processing day, Word 2010 automatically presents you with a blank document in which you can start writing. After Word has already started and you're ready to begin another new document, you summon the electronic equivalent of a fresh, blank sheet of paper:
1

Click the File tab.

The Word window changes to display the File tab menu.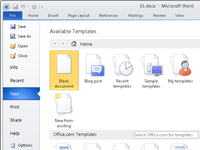 2

Select the New command from the left side of the window.

Word lists a slew of options for starting a new document, many of which may appear confusing to you. What you want is the Blank Document item, which is conveniently chosen for you.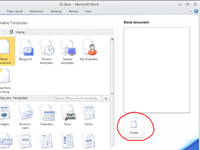 3

Click the Create button to start a new, blank document.

The Create button is found on the right side of the window, beneath that obnoxiously large, blank sheet of paper. Alternately, you can simply press Ctrl+N with Word open to start a new, blank document. The Word window returns to normal and you see a blank page, ready for typing.
4

Repeat these steps as often as you need new documents.

Word lets you work with several documents at a time.