How to Sort a Table in Word 2007
How to Sort a Table in Word 2007
You can sort the data in your Word 2007 tables. This is useful if you want to present the data in sequence. For example, you might want to show a table that lists employees in order by the employees' names. Fortunately, Word includes a Sort button that lets you do just that.
1

Select the rows you want to sort.

For the best results, select entire rows and leave out any heading rows you don't want sorted. Usually, you want to sort the entire table except for headings.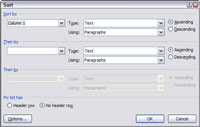 2

Click the Sort button.

This is found in the Data group on the Layout tab. The Sort dialog box comes up.
3

Set the column you want to use to sort the table and select the type of sort you want.

By default, the Sort dialog box sorts data into ascending sequence based on the first selected column. But you can pick a different column to sort by, or you can choose to sort in descending sequence, and you can tell Word whether the column contains text, numbers, or dates. You can also sort up to three columns. (This setting tells Word which columns to use to determine the sorted order. Keep in mind that Word keeps rows together when it sorts them.)
4

If your selection includes a heading row that you don't want sorted, select the Header Row option.

You can keep that row as is.
5

Click OK.

Word sorts your data according to the choices you made.