How to Create Bulleted Lists Automatically in Word 2007
How to Create Bulleted Lists Automatically in Word 2007
Word 2007 can create bulleted lists automatically, using Ribbon buttons or its AutoCorrect feature. The List buttons are the first three buttons in the upper row of Paragraph tab on the Ribbon.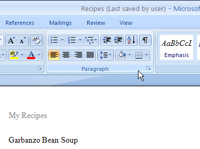 1

To create a simple bulleted list before you type anything, click the leftmost List button; otherwise go to the next step.

You can start right off with a bulleted list — no mess, no fuss, no cleanup.
2

To create a paragraph and change it to a list item, type the first item of your list.

Don't press Enter yet.
3

Click the Bullet button on the Home tab.

A bullet is added to the paragraph.
4

Press Enter to begin the next item.

A new paragraph with a bullet is created.
5

Type the rest of the list.

Press Enter after you type each item of the list. Word adds bullets automatically.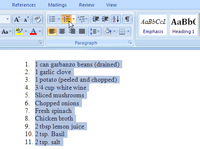 6

When you're done, press Enter twice.

Pressing Enter the second time removes the bullet for the last item of the list.