Adding a Watermark in Word 2007
Adding a Watermark in Word 2007
Watermarks in Word 2007 documents can be attractive, but they aren't just about looks: A watermark can be a way of letting the reader know that the document is confidential. Watermarks are most useful for printed documents because they aren't displayed in the Web Layout view. To add a watermark, follow these steps: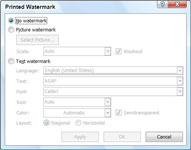 2

Click one of the watermarks to insert it or select Custom Watermark from the bottom of the gallery.

If you elect to add a custom watermark, the Printed Watermark dialog box appears. You can select a picture to be used for the watermark by selecting the Picture Watermark option and then using the Select Picture button to find the image you want to use. For most images, you want to leave the Washout option selected, which makes the text on top of the image easier to read.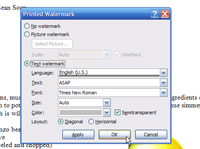 3

(Optional) To select text for your custom watermark, select the Text Watermark option in the Printed Watermark dialog box. Then use the controls to select the language and the text to be used. Click OK.

You can format the text by using the remaining controls, including deciding whether the text should be diagonal or horizontal.