Reading Mail in Outlook in Office 2011 for Mac
Reading Mail in Outlook in Office 2011 for Mac
To open an e-mail, or message, in its own window in Outlook 2011 for Mac, double-click the message subject in the inbox. This window comes with a mini Message Ribbon that has many of the controls of the Home tab of the Ribbon.
The Outlook 2011 Message window has some handy features of its own: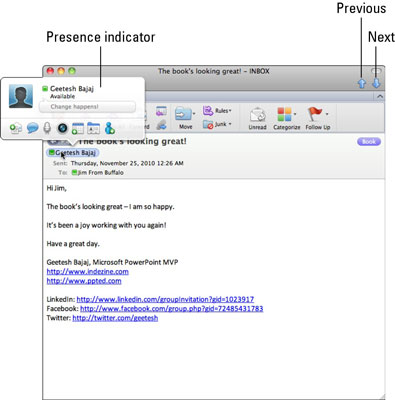 The Presence indicator displays if you mouse over the green dot adjoining the name of someone who is in your address book and is online in MSN Messenger or in Communicator. The tools on the Message tab of the Ribbon work the same as those on the Home tab of the main Ribbon.
Here are a few other interesting features you might want to try while reading a message:
Speech: Select message text and then right-click. From the contextual menu, choose Speech→Start Speaking to listen to the words. Choose Speech→Stop Speaking from the same menu to stop speaking.

Search: Right-click a word or term in a message and then from the resulting pop-up menu choose one of the following:

Search in Spotlight: Find using Spotlight in Mac OS X.

Search in Google

Look Up in Dictionary: Looks up the selection in the Mac OS X Dictionary application.

Hyperlink: Click a hyperlink to open it in your default Web browser. Right-click a hyperlink to display a pop-up menu that lets you copy the link.

Attachment: If you receive a message with one or more attachments, they will be listed just above the message area.

Preview: Select an attachment and press the spacebar to preview it. You don't even have to open the attachment to preview common attachment types such as Office files, PDFs, and pictures.

Save: Right-click an attachment to display a Save-As dialog so that you can save the attachment.
Right-click a message subject in the message list to reveal a contextual menu with all sorts of handy options. This is the menu where you can find View Source, which displays a window showing the complete message header.
You don't have to return to the message list to read additional messages. Clicking the Previous and Next message buttons allows you to stay in the message window while going through your messages.
If you switch to other applications while Outlook is running, when mail is received, a notification appears for a moment. The notification offers three options:
X: Closes the notification without taking any other actions.

Delete: Deletes or marks the message for deletion.

Clicking the message subject: Opens the message in Outlook.
To turn this notification off, choose Outlook→Preferences→Notifications and Sounds from the menu bar. In the Message Arrival section, deselect the check box labeled For New Messages Display an Alert on My Desktop.