Shear Objects in InDesign Creative Suite 5
Shear Objects in InDesign Creative Suite 5
Shearing an object means that you're skewing it horizontally, slanting it to the left or right. In InDesign CS5, shearing is a breeze. A sheared object may appear to have perspective or depth. You use the Shear tool to create a shearing effect.
Follow these steps to shear an object:
1

Select an object on the page.

The bounding box appears around the object that's selected.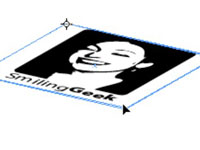 2

Choose the Shear tool in the Tools panel by clicking and holding the Free Transform tool.

The cursor changes so that it looks similar to a cross hair. Click the corner of the object that you want to shear from, and a cross hair appears.
3

Click anywhere above or below the object and drag.

The selected object shears depending on which direction you drag. Press the Shift key while you drag to shear an object in 45-degree increments.

To shear objects with the Free Transform tool, begin dragging a handle and then hold down Ctrl+Alt (Windows) or COMMAND+Option (Mac) while dragging.

You can also enter an exact value into the Transform panel to shear an object. Select the object and then enter a positive or negative value in the panel representing the amount of slant you want to apply to the object.

You can apply shear by choosing Object→Transform→Shear to display the Shear dialog box.