Export to Flash from InDesign Creative Suite 5
Export to Flash from InDesign Creative Suite 5
Within Adobe InDesign CS5, you can export an InDesign CS5 document as a Flash Professional file. This process creates an SWF (Shockwave Flash file).
To export, follow these steps: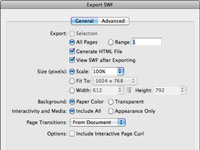 2

Enter a filename for the new SWF file and click Save.

Type a filename, locate the spot where you want to save the file on your hard drive, and select Flash CS5 Professional (FLA) from the Save As Type (Windows) or Format (Mac) drop-down list.

If you need to include video, audio, animation, and complex interactivity, export the file in Flash CS5 Professional format because you can then use Flash Professional to modify and edit the file until it meets your exact needs.

In the Export SWF dialog box, you can set the output size, specify pages to include, and make various conversion and compression choices.
3

Choose the size you want for the exported file.

Select the Scale option and leave the drop-down list at 100% if you don't want to change the size of the exported file. Otherwise, select the Fit To option and choose from the drop-down list or select the Width option and enter your own dimensions in the Width and Height drop-down lists.
4

Select which page or pages you want to export.

Select the All option to export the entire document; select Range and enter a page number if you want to export only a specific page or pages. Select the Spreads check box to export page spreads.
5

From the Text drop-down list, select how to export text.

When you're exporting to Adobe Flash your InDesign objects remain as vectors unless transparency is applied, and you have the option to export InDesign text as editable Flash text, vectors, or pixels.

If you choose InDesign Text to Flash Text, note that the text is laid out in Flash with each line becoming a separate text object, so try to do all editing inside InDesign because editing the text within Flash is difficult.
6

Select the Interactivity options you want.

You can choose whether you want to include all interactive options or only those that affect appearance.
7

Choose the image compression, JPEG quality, and curve quality you want.

If a small file size is important to you, select a reduced quality.
8

Click OK.

Your InDesign document is exported as a Flash file.