Export PDF Documents from InDesign Creative Suite 5
Export PDF Documents from InDesign Creative Suite 5
Export a PDF file from InDesign CS5 to distribute documents created with InDesign CS5 to users who don't have Creative Suite 5 or are on different computers and operating systems.
Here's how to export to PDF:
2

Choose a location to save the file and enter a new filename.

In Windows, use the Save In drop-down list to choose a location. Name the file in the File Name text field.

Using a Mac, name the file in the Save As text field and choose a location using the Where drop-down list.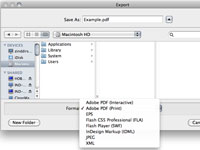 3

Select Adobe PDF Print and Click Save.

In Windows, find this in Save As Type.

On a Mac, use the Format drop-down list.

The Export PDF dialog box appears with General options open.
4

Choose a preset from the Preset drop-down list.

If you're familiar with Adobe Acrobat and the Adobe Distiller functions, they're the same.

The presets automatically change the export settings of a document. Select Smallest File Size for online display or select High Quality Print if you plan to print on home printers. Select Press Quality if you intend to have the PDF professionally printed.
5

Leave the Standard drop-down list at None.

Leave it at None unless you know about PDF/X and know which form of it to select.
6

Select a range of pages to export in the Range text box.

You can choose to export all pages or a range of pages.
7

Choose a compatibility setting for the PDF from the Compatibility drop-down list.

Setting compatibility to Acrobat 5 (PDF 1.4) ensures that a wide audience can view your PDF files.
8

Select the check boxes to the left of the options in the Include section to make settings choices.

You can choose whether to embed thumbnails or optimize the document, as well as which kinds of elements to include like bookmarks, links, and other elements in the file.

Click Security in the list on the left of the Export PDF dialog box to open the Security screen, where you can specify passwords to open the document. You can also choose a password that's required to print or modify the PDF file.
9

Click the Export button to export the file.

The file is saved to the location you specified.