Export JPEG Files from InDesign Creative Suite 5
Export JPEG Files from InDesign Creative Suite 5
Export a JPEG file from InDesign CS5 when you need a picture of an InDesign CS5 page for the web. JPEG compresses images, reducing the file size so they load faster in web applications.
To export a JPEG image, follow these steps:
1

Select an object on a page.

If you want to export a page or spread, make sure that no object is selected.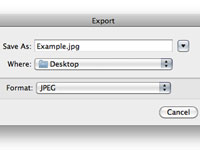 3

Enter a filename for the new JPEG file and click Save.

Type a filename, locate the spot where you want to save the file on your hard drive, and select JPEG from the Save As Type (Windows) or Format (Mac) drop-down list.

The Export JPEG dialog box opens.
4

If you want to export a page, select the Page option and enter the page number; if you want to export the selected object, make sure that the Selection option is selected.

The Selection option is available only if a selection was made in Step 1.
5

Choose an image quality and format to export by choosing from the Image Quality and Format Method drop-down lists.

The Image Quality drop-down list controls the amount of compression that's used when you export a JPEG file. Maximum creates an image with the largest file size and highest quality. Low creates a smaller file of lesser quality because it includes less image information.

If you choose the Baseline format from the Format Method drop-down list, the entire image has to be downloaded before it's displayed in a web browser. Select Progressive to show the image in a progressively complete display as it downloads in a web browser.
6

Click the Export button.

The file is exported and saved to the location you specified in Step 3.