Discover the InDesign CS5 Menus
Discover the InDesign CS5 Menus
The Adobe InDesign Creative Suite 5 menus, located on the menu bar, are used to access some of InDesign's main commands and control its user interface. These menu commands also allow you to open and close panels used to edit and make settings for the publication.
Menu bar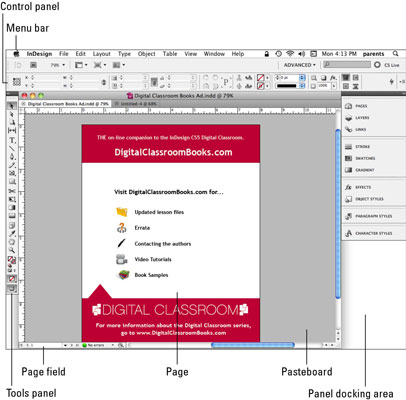 On the InDesign menu bar, you'll find several menus.
File: This menu includes some of the basic commands to create, open, and save documents. It also includes the Place command to import new content and many options to control document settings, exporting documents, and printing.

Edit: You can access many commands for editing and controlling selections in this menu — such as copying and keyboard shortcuts. The dictionary and spell checker are on this menu, too.

Layout: Use this menu to create guides. These options help you lay elements on the page accurately and properly align them. Use the menu to navigate the document's pages and spreads.

Type: From this menu, you can select fonts and control characters in the layout. You can access the many settings related to text from this menu, which opens the associated panel where you make the changes.

Object: You can modify the look and placement of objects on the page with this menu. Which options are available on this menu depends on which element you've selected in the workspace, such as a text field or an image.

Table: Use this menu to create, set up, modify, and control tables on the page.

View: You can modify the view of the page from this menu, including zooming in and out, as well as work with guides, rulers, or grids to help you lay out elements.

Window: Use this menu to open and close panels or switch between open documents.

Help: This menu is where you can access the Help documents for InDesign and configure any plug-ins you have installed.
Contextual menus
Contextual menus (or context menus) are menus that pop up when you right-click (Windows) or Control-click (Mac) the mouse. Contextual menus change depending on which element you click and which tool you're using.
If you have no elements selected, the contextual menu opens for the overall InDesign document, allowing you to select options such as Zoom, Paste, Rulers, and Guides. If you have an element selected, your options include transforming, modifying, and editing the object.
Contextual menus are context sensitive (hence the name!). Remember to select an element on the page before you right-click to open the contextual menu. If you don't select the object first, the menu displays commands for the document instead of for the object.