Create Multimedia Flash Files Using InDesign CS5
Create Multimedia Flash Files Using InDesign CS5
You can export InDesign Creative Suite 5 documents to Flash SWF so that they can be viewed using Flash Player or edited using Flash Professional. Page transitions can be used and you can also use an interactive page flip which is not available within Acrobat.
To export your InDesign document to Flash, follow these steps:
1

From the Format drop-down menu, choose File→Export and select Flash Player (SWF).

A dialog box appears.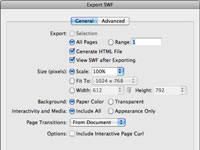 2

Enter a name for the file, select a location to save it, and then click Save.

The Export SWF dialog box appears.
3

In the General section, make sure that the Generate HTML File and View SWF after Exporting options are both selected and then click OK.

The file is exported to an SWF file, and an HTML container for the file is created and displayed within your Web browser. Use the mouse to click and drag the page corners to turn the pages, or use the left and right arrow keys to navigate forward and backward in the Flash document.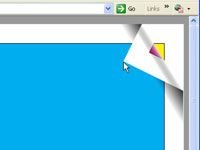 4

Open the file in a Web browser.

Notice that you can move from page to page by grabbing a corner of the page and flipping it. As you turn from page to page, you see your page transitions at work.

You can further refine your InDesign multimedia project using Flash Professional. Rather than export to Flash SWF, choose the Flash Professional option when exporting and then open the file using Flash Professional and make your edits.