Create Interactive PDF Files Using InDesign CS5
Create Interactive PDF Files Using InDesign CS5
You can use Adobe InDesign Creative Suite 5 to include movie or audio files and page transitions in a PDF. These multimedia files don't play while you're using InDesign. However, the files play if you export the document to PDF or XML format.
To add a media file and an interactive page transition to a PDF document, follow these steps in InDesign:
1

Choose File→Place.

The Place dialog box opens, where you can choose a media file to import.
2

Choose a file to import.

You can add AVI, MOV, MPEG, and SWF movie files or AIF, AU, and WAV audio files.
3

Click within the document window to place the media file on the page.

The Place cursor appears after you select a file to import into the document. Click where you want the upper left corner to be located on the page.
4

Using the Pages panel, add additional pages.

At least two more pages are recommended.
5

Add some content to the other pages.

Add text, images, or more interactive objects such as movies or SWF Flash files.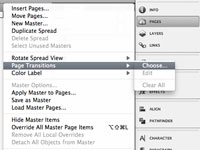 6

Using the Pages panel, select a page, choose Page Transitions, and select the desired transition to this page.

You can select any page except the last page, because it has no page to transition to.

Page Transitions can be found in the Pages panel menu in the upper right corner of the panel.
7

Choose File→Export and choose Adobe PDF (Interactive).

The Export to Interactive PDF dialog box appears.
8

Choose All from the Pages section, select View after Exporting, and choose From Document from the Page Transitions drop-down list.

This enables the transitions you just applied to be used after export to PDF.
9

In the Presentation section, choose Open in Full Screen Mode and, in the Buttons and Multimedia section, select Include All.

You can select to open in a different mode, but the most commonly used is Full Screen.
10

Click OK to create the interactive PDF.

Your file should open in Adobe Acrobat. If you're working on a Mac and your PDF viewer is set to Preview, you may need to launch Acrobat and then view the file by choosing File→Open from within Acrobat.

The page transitions you created appear as you navigate from one page to the next.

To view a movie in a PDF file, double-click the movie icon. Viewers need at least Acrobat Reader 6 to view the PDF file and play the media files.