How to Create a New Document from CSS Starter Pages in Dreamweaver CS6
How to Create a New Document from CSS Starter Pages in Dreamweaver CS6
Adobe Dreamweaver CS6 provides you with a library of sample pages with CSS-based layouts as an alternative to starting from scratch. These CSS sample pages feature useful and common layout ideas, and because they're created with CSS positioning, they're highly flexible. You can modify them directly from the CSS Styles panel or the Property inspector. Just add your content and go!
Follow these steps to create a new document from a CSS starter page:
1

Choose File→New.

The New Document panel appears.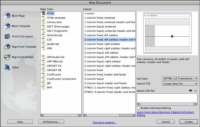 2

Choose Blank Page from the left, select a layout from the Layout column on the right (for example, the 2 Column Fixed, Left Sidebar, Header and Footer layout), and click Create.

A new, untitled page opens, based on the layout you chose.

By default, new CSS starter pages place all of their CSS rules in an embedded style sheet. To use an external (linked) style sheet instead, choose Create New File from the Layout CSS drop-down list on the New Document dialog box. You'll be prompted to save the file in your site's root directory.
3

Choose File→Save.

Up pops the dialog box that lets you name and save the document.