Adobe CS5 Dreamweaver CSS and Browser Compatibility
Adobe CS5 Dreamweaver CSS and Browser Compatibility
Adobe Creative Suite 5 (Adobe CS5) Dreamweaver provides the Browser Compatibility Check, which can discover and report any CSS-related display issues that may occur in selected browsers and versions. The Browser Compatibility Check checks CSS compatibility by default in these browsers: Firefox 1–3; Internet Explorer (Windows) 6.0–8.0; Internet Explorer (Macintosh) 5.2; Netscape Navigator 7.0–8.0; Opera 7.0–9.0; and Safari 1.0–3.0.
For any problem that the Browser Compatibility Check discovers, the Results panel displays a description of the problem along with a direct link to the CSS Advisor section of the Adobe website. The CSS Advisor reports on known browser-display issues and possible solutions for fixing them.
1

Open a page for editing.

You can choose File→Open or by selecting a page from the Files panel.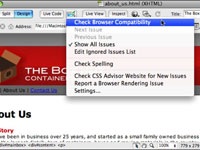 2

In the Document window (next to the Live Code button), click and hold the Check Browser Compatibility button.

The Results panel appears, with the Browser Compatibility tab forward. Any results are displayed on this tab.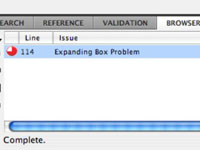 3

To view details and possible solutions for any results that may appear, select the result.

The Browser Compatibility Check displays any problems. Possible compatibility issues are listed along with the filename, line number.
4

A description of the problem, as well as a link to the Adobe website, appears on the right side of the panel.

Click the link below the detail panel to jump to the Adobe website for solutions.