Restrict Who Can Edit or Print PDF Documents
Restrict Who Can Edit or Print PDF Documents
Adobe Acrobat Creative Suite 5 password security features provide you with the ability to restrict who can edit or print the PDF documents you distribute.
Follow these steps:
1

With a PDF file open, click and hold the Secure button on the Security taskbar and choose Encrypt with Password.

The Password Security – Settings dialog box opens.
2

In the Permissions area, select the check box labeled Restrict Editing and Printing of the document.

You can now specify a password that will be required for readers to edit the file or change the security settings.

This password can be different than the password used to open the document — in fact, you don't even need to use a document open password, but it's a good idea to use both of these passwords for sensitive data. If you apply a document open password without a permissions password, it's easy for an experienced user to bypass the security in the PDF file.
3

In the Change Permissions Password text box, enter a password.

Users that enter this permissions password when opening the document can change the file or the security settings. The permissions password can also be used to open the file and provides more privileges than the open password.
4

Choose whether users can print the document by selecting from the Printing Allowed drop-down list.

The choices include Low Resolution or High Resolution, or you can prohibit printing by choosing None. The settings you choose here apply to anyone who accesses the document and doesn't know the permissions password.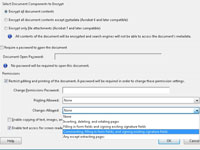 5

Choose from the Changes Allowed drop-down list to restrict editing.

For the most security, choose None.
6

Select the last two check boxes if desired:

Enable Copying of Text, Images, and Other Content: When deselected, this option restricts copying and pasting of text and graphics from a PDF file into other documents. Selecting this option lets users extract text and images from a file by using the simple Copy and Paste commands.

Enable Text Access for Screen Reader Devices for the Visually Impaired: When you choose Acrobat 5 or Later from the Compatibility drop-down list at the top of the dialog box, you can also select this check box to allow visually impaired users to have the PDF file read aloud to them.
7

When you're satisfied with the settings, click OK.

Your permissions password and security setting are in place.

Choosing more advanced security settings, and choosing the latest version of compatibility, runs the risk of your file not being visible to many users that may not have upgraded. Always understand your audience and the software versions they're using before distributing files.