Inspire Employees with Challenges in Socialcast
Inspire Employees with Challenges in Socialcast

16
Create a new Challenge.
Source: Socialcast.com
To set up a new Challenge, click on the + icon next to Challenges. The Create New Challenges dialog box will appear.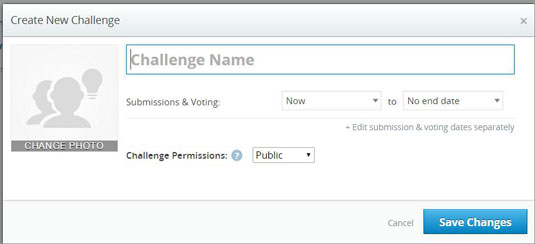 26
Determine a name and timeline for the Challenge.
Source: Socialcast.com
Give your Challenge an intriguing name to get attention. Add a photo if you wish. Then tell Socialcast when people can submit ideas or comments, and when they can vote on the ideas. If you want all submissions to be entered before anyone votes, click the Edit submission & voting dates option to create two separate entries.
You don't have to choose an end date; it can be an on-going challenge or a repository for new ideas.
Challenges can be open to everyone in the community (Company), seen by all but updates only viewed by those who join (Public), or completely hidden except to those you invite (Private). When you're done, click Save Changes. Socialcast creates the event and gives you the opportunity to add more information.

36
Fill in the details.
Source: Socialcast.com
In the About this Challenge section, enter the details of the task at hand. What are you looking for, exactly? What do you want people to do? What are the goals and guidelines? Perhaps most importantly, what's in it for them and why should they care? You can attach related files for others to download if that is helpful to your process.
The first two lines of your description will appear just below the Challenge name at the top of the page.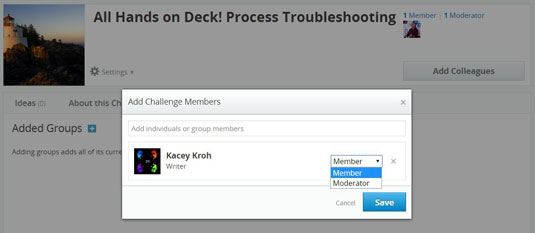 46
Invite others to the Challenge.
Source: Socialcast.com
After you have set the framework for the Challenge, it's time to get others involved. As the moderator, you can add groups via the Groups tab, or you can invite individuals by clicking Add Colleagues and typing the names of those you want to invite.
Once you've found their name, you can also indicate if you want to make them a moderator. Everyone you add as either a member or moderator will appear at the upper right side of the window.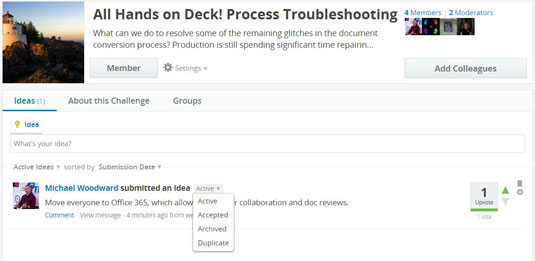 56
Sit back and watch the magic happen.
Source: Socialcast.com
When people post their thoughts, each entry will appear with voting options on the right. To vote "thumbs up" on an idea, click the green up arrow; so say you don't favor that idea, click the red down arrow. When sufficient time has passed, you can use the drop-down menu next to the idea to change its status.
The idea can remain active, be accepted and no longer receiving comments, archived and no longer appearing in the list, or duplicated to jump start a new idea.

66
Save it for later.
Source: Socialcast.com
You can export the entire Challenge and all of its ideas and suggestions to a CSV file for other purposes, such as statistical analysis, or simply have a list of suggestions you can review without hanging out in Socialcast.
Use the gear menu next to the voting arrows to manage individual messages, how you view them, and whether you want to follow the thread indefinitely.