How to Create an Event on Ning
How to Create an Event on Ning
Create your own event on Ning if you want to get the word out about well, an event. Your Ning network's creator has to set up the network's privacy so that members can create events:
1

Log in to your social network.

Your profile page appears.
2

Click the Events tab in the navigation bar at the top of the page.

The Events page opens.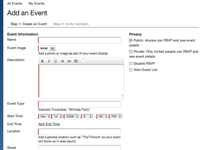 3

Click the Add an Event link at the top of the Events page.

You can also find this link on any particular event's page.

The Add an Event page appears.
4

Enter the required event information in the appropriate text boxes.

This information includes Name, Event Image, Description, Event Type, Start Time, and Location.
5

Fill in any of the optional information that you want in the the remaining text boxes.

You can include information about the event's End Time, Street, City/Town, Website or Map, Phone, as well as telling invitees who's organizing the shindig in the Organized By text box.
6

Specify whether you want the event's privacy setting to be Public or Private.

If you select the Public option (the one set by default), everyone in the network can see the event details and RSVP for it. If you select the Private option, the event details appear only to those invited. These members are the only ones who can RSVP for the event.
7

Select the appropriate check boxes if you want to Disable RSVP and Hide Guest List.

You may not need RSVPs if your event doesn't involve space limitations or require planning for food or other amenities. And hiding the guest list prevents people from peeking to find out whether some member they highly like (or dislike) is going to be in attendance (or not). Sorry, lurkers: no fun for you!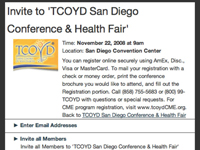 8

When you finish adding all the details about your event, click the Add Event button.

Your event is added to the social network.
9

Invite people to your event.

You can either manually enter e-mail addresses, invite some of your Ning Friends, or get invitees from your e-mail address book.
10

Click the Send invitations button.

Your brand-spanking-new event page appears, showing all the details about the event.