Wireless Network Administration: Adding a BlackBerry User
Wireless Network Administration: Adding a BlackBerry User
BlackBerry Enterprise Server, also known as BES, is the key piece of software that makes BlackBerries do their magic. As an interface between e-mail servers and ultimately the handheld device, users must be configured and managed within BES. One of the most common BlackBerry Enterprise Server (BES) administration tasks is to add new BlackBerry users. To do this, follow these steps:
1

In Active Directory Users and Computers, right-click the user you want to add and choose Properties.

This brings up the Properties page for the user.
2

Select the Exchange Advanced tab and click the Mailbox Rights button.

This brings up the Permissions dialog box, which lets you grant mailbox rights for the user's mailbox.
3

Click Add, type BESAdmin, and click OK.

This adds the BESAdmin account to the list of users who have mailbox rights permissions for the user you selected in Step 1, but doesn't actually grant any permissions.
4

Select the Full Mailbox Access check box and click OK.

This grants full mailbox access rights to the BESAdmin account for the BlackBerry user.
5

Click OK again to dismiss the Properties dialog box.

You're done with Active Directory Users and Computers; you can now close it if you want.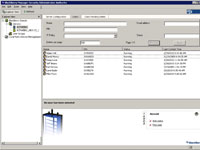 6

Open the BlackBerry Manager by clicking the BlackBerry Manager icon on the desktop.

BlackBerry Manager comes to life.
7

In the Explorer View pane, navigate to the server you're managing.

This example uses server BCFWEB01.
8

Click in a blank area within the list of BlackBerry users and choose Add Users.

A dialog box named Select Mailbox appears. This dialog box lists all the Active Directory users who have Exchange mailboxes.
9

Select the user you want to add and then click OK.

The Select Mailbox dialog box vanishes and the user is added to the list of BlackBerry users.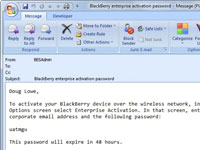 10

Right-click the user and then choose Generate an Email Activation Password.

This action initiates the Enterprise Activation process by generating an activation password and e-mailing it to the user. This e-mail provides not only the password, but also the instructions the user needs to follow to activate his or her BlackBerry device.
11

You're done!

It's now up to the user to activate the BlackBerry device. The user does this by navigating to the Options screen and selecting Enterprise Activation, entering the e-mail address and activation password. After the e-mail address and password are verified, the activation process begins. It should take 10–15 minutes to complete. After the activation is complete, the phone should begin receiving e-mails, contacts, and calendar items from the user's Exchange mailbox.