Wi-Fi Connections for Enterprise Mobile Devices: Apple
Wi-Fi Connections for Enterprise Mobile Devices: Apple
Connecting a mobile device to a Wi-Fi network is a basic task, but your enterprise has a security interest in ensuring your users understand the implications of this task. Here are some techniques and hints to pass on to your corporate users for establishing safe Wi-Fi connections.
The Apple iPhones, iPads, and iPods all run a single operating system, called the Apple iOS, which makes the configuration of Wi-Fi identical on each of them.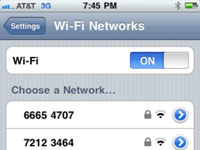 1

Navigate to Settings→Wi-Fi on the iOS device. Make sure Wi-Fi is On.

If you don't see any networks listed, that means you and your device aren't close to any Wi-Fi networks. If there are Wi-Fi networks in your vicinity, those should be displayed on the screen.
2

Tap the network that you want to connect to.

If the network is open or public, you don't need to enter a password; you should be able to connect right after you tap the network. If the network is secure, you're prompted to enter the password to connect.

If you don't see a padlock symbol displayed next to the network, that network is open or insecure. You can click the blue arrow at the end of each row to find more information about the network and the encryption technique used.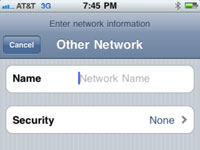 3

If prompted, enter the password to connect to the network.

In most cases, the preceding steps should connect you to the nearest Wi-Fi network. If, however, you're trying to connect to a hidden network that isn't displayed on the device, tap Other in Wi-Fi Networks Settings to manually enter the network's information on the screen.

You need decent signal strength to connect to a Wi-Fi network. If the network isn't close by or the signal isn't strong enough, you may not be able to connect to it.

Many public networks require you to accept a legal agreement to use them. For example, if you connect to a Wi-Fi network in a hotel, more than likely a web page will be displayed with legal disclaimers, asking you to accept or decline the agreement. The disclaimer usually indicates that you choose to use the network at your own risk, and that the network owner isn't liable for damages or losses that you may incur on their network. Unless you accept the agreement, the network will prevent you from browsing the Internet.