Network Administration: Performance Log Creation
Network Administration: Performance Log Creation
You can create a performance log — which in Windows Server 2008 is called a Data Collector Set. (In Windows Server 2003, it was called a Performance Log. When the network is running well, you can collect data to act as a baseline, so you'll know whether performance has slipped. When the network is not acting well, you can collect data to help isolate the problem.
1

To set up a performance log open the Data Collector Sets node in the console tree.

Then right-click the User Defined node and choose New→Data Collector Set. This action brings up a wizard that steps you through the process of creating a new log.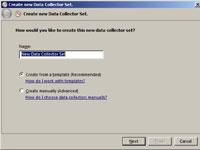 2

Type a name for your log.

After entering a name you choose whether you want to use a pre-defined template or create your own custom log, and then click Next. This example uses a template.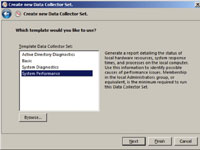 3

Select System Performance.

Then click Finish. Creating the log doesn't actually start the logging activity. To start the log, right-click it and choose Start. Alternatively, you can click the big green Start button in the toolbar. When you want to stop the log, select the log and click the Stop button or right-click the log and choose Stop.