Network Administration: Creating an FTP Site
Network Administration: Creating an FTP Site
Configuring an File Transfer Protocol (FTP) server involves 2 steps, installing the FTP software and then actually creating your site. The examples show Microsoft IIS version 6 running on Windows Server 2008, but the procedures are essentially the same for other IIS versions.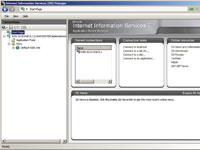 1

Choose Start→Administrative Programs→Internet Information Services (IIS) Manager.

This launches the IIS Manager console.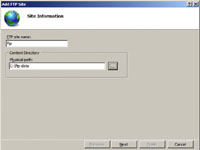 2

Right-click the Sites node and choose Add FTP Site.

The first page of the Add FTP Site Wizard appears. The Add FTP Site Wizard asks for the name and data folder for the FTP site. This field determines the location on the server where the data stored on the FTP site will be located. If you don't know the exact path, click the Browse button and browse to the folder location.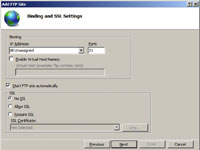 3

Click Next.

The second page of the Add FTP Site Wizard appears. This page lets you set the port number that the FTP site will use, and lets you indicate whether you will use SSL security.
4

Leave the IP Address and Port fields unchanged unless you want to use a nonstandard port.

By default, the FTP site will use port 21, which is the standard port for the FTP protocol.
5

Select the SSL security option you want to use.

If you have an SSL certificate and want to use SSL security, select either Allow SSL or Require SSL. If you select Allow SSL, users can access your site with or without SSL security. If you select Require SSL, users must always use SSL security to access the FTP site.

If you don't have a certificate available or if the site will contain data that doesn't require tight security, select No SSL.

Click Next.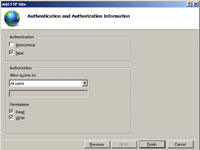 6

The third page of the Add FTP Site Wizard appears.

This page lets you set the basic login security to be used for the site.
7

Select the Anonymous option if you want to allow anonymous users to access your FTP site.

If you check this option, users can access your FTP site without providing any login information. You should specify this option only for sites that have no security requirements.
8

Select the Basic option if you want to allow Basic authentication.

This option allows users to log in using a Windows username and password. Note that because this option transmits the password in unencrypted form, you should use it only when you know that the connection between the user and the FTP server is secure.
9

Select the user access permissions you want to grant.

You can grant Read and Write permissions to All Users to anonymous users, and to individual users or groups.

Do not grant Write permissions to anonymous users. If you do, your FTP site will quickly become a dumping ground for all kinds of trash as word gets out about your totally unsecured FTP site.
10

Click Finish.

Your FTP site is created!