Enabling VPN on an iPhone
Enabling VPN on an iPhone
VPN can be a very handy thing to have on an iPhone. For example, you might use VPN on your users' iPhones to enable access to internal applications on the corporate intranet without having to expose the intranet to public access.
Once a VPN is set up properly on your firewall, configuring an iPhone to access it is easy. Here are the steps: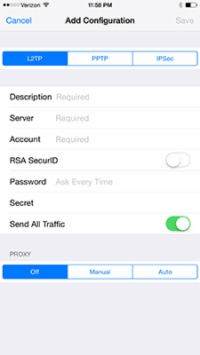 1

Tap Settings, General, VPN, and then tap Add VPN Configuration.

The VPN Configuration screen appears.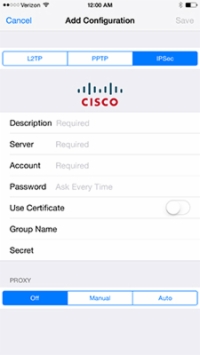 2

Select the type of VPN you want to configure.

Enter the configuration information for the VPN. For an IPSec VPN, you'll need to enter a Description, the Server name or IP address, Account name, Password, Group Name, and the Secret.
3

Tap Save.

You're done!

To activate the VPN on an iPhone, tap Settings, then tap the VPN On/Off toggle to turn the VPN on or off.