How to Share Your Digital Film on YouTube from iMovie
How to Share Your Digital Film on YouTube from iMovie
Sharing your digital film with your family and friends is great, but you may want to reach a wider audience. Sharing the film on a video‐hosting site like YouTube is a way to do that. The library of videos on YouTube gets billions of views every day, and some videos there have been viewed hundreds of millions of times.
Uploading your film to YouTube allows you to share a link to your film with friends and family around the world and get comments and reviews. Before uploading your films to YouTube, however, make sure you have permission from a parent to do so.
To upload your film to YouTube through iMovie, follow these steps:
1

Make sure you have a YouTube account to which you can upload your film.

You must be at least 13 years old to have a YouTube account so you may want to ask your parent's permission to use his or her account or ask him or her to set an account up.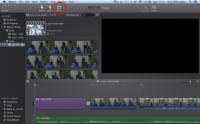 2

Open your trailer within iMovie. Click Share in the top toolbar.

This shows a list of sharing options for your film.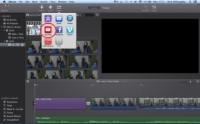 3

Click the YouTube logo.

This shows the setting options for your video before it's uploaded to YouTube. Here you can choose to change the title, description of the video, and category, and you can define who can see the video when it's shared.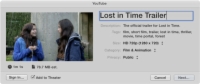 4

Click in the title box to change the title, if necessary.

Add a description about the film by clicking in the description box.
5

You can then add tag words, which are words or phrases that are related to your film, and which allow people to be able to search for it.

You can also select the size of your video here. However, it's a good idea wo this at the default setting.
6

Then set the category.

Use "Film & Animation" unless there's a good reason to do otherwise. Then, change the privacy settings to "Public."

You can leave the privacy settings at "Private," if you want to prevent people you don't know from viewing your film.