How to Enter a Credit Card Transaction in Quicken 2010
How to Enter a Credit Card Transaction in Quicken 2010
In Quicken 2010, you can record information about transactions on your credit card after you create an account for that credit card. Entering transactions for your credit card is a simple process.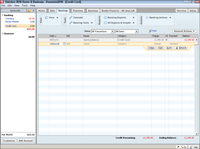 1

Click the credit card account's name in Quicken's Accounts bar.

After you select the account you want, Quicken displays the register for that account so that you can begin recording transactions.
2

In the Date field, type the date by using the MM/DD format.

For example, enter September 1, 2010, as 9/1. Alternatively, you can click the box that remotely resembles a calendar at the end of the field, and Quicken displays a pop-up calendar from which you can select the appropriate month and day.
3

Record the name of the business you paid with a credit card in the Payee field.

If you went to a restaurant named Florencia's Cantina, for example, type Florencia's Cantina into the Payee field.
4

In the Charge field, type the total charge amount.

Don't type a dollar sign, but do type the period to indicate the decimal place and cents.
5

Select the appropriate category from the Category drop-down list.

You may categorize a restaurant charge as Dining, for example.
6

(Optional) In the Memo field, type the specific reason you're charging the item.

The Memo file — just so you know — only appears when the register display is set to Two-Line Display mode.