How to Examine Medigap Policies
How to Examine Medigap Policies
Copyright © 2014 AARP. All rights reserved.
The ten Medigap policies currently available are each labeled with a letter of the alphabet: A, B, C, D, F, G, K, L, M, and N. (The missing letters in this sequence — E, H, I, and J — belong to older policies that are no longer sold.) Each lettered policy offers a different set of benefits that are standardized by federal law.
This uniformity means that each policy with the same letter must have exactly the same benefits, even though the premiums charged by different insurance companies vary a good bit. So it pays to shop around.
Note: This assumes here that you're 65 or older. If you're younger, you therefore come under different rules.
Take a look at this figure, which broadly shows which policies cover which benefits and to what extent. A percentage shows a policy that pays only half or three-fourths of a benefit's cost; you pay the rest.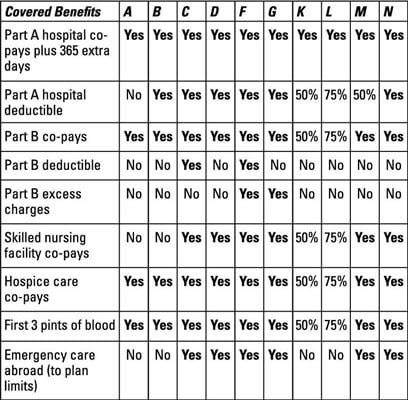 Benefits covered in Medigap policies.
Source: Centers for Medicare & Medicaid Services
The figure shows only the bare bones of Medigap coverage. The fine print, for example, shows that
The emergency care abroad benefit has limits not shown here. The six policies that cover this benefit charge a deductible of $250, a 20-percent co-pay, and a lifetime limit of $50,000.

The Part B excess charges benefit, available only in policies F and G, covers your expenses in situations where a doctor or other provider charges more than the Medicare-approved cost. This practice is called balance billing.

Although policy N covers most of Part B's 20-percent co-pays, it does require small co-pays of its own in a couple of situations: up to a $20 co-pay for some office visits and up to a $50 co-pay for emergency room visits that don't end in admission to the hospital.

Two policies, K and L, pay only half or three-fourths of the costs for most services but pay 100 percent for the rest of the year if your out-of-pocket costs go over certain annual limits.

An alternative high-deductible version of policy F is available in some states, with a lower premium but a hefty annual deductible of over $2,000 before the policy pays anything. This amount can change each year. (The standard F policy has no deductible.)

Some policies have another version labeled "SELECT." These options typically charge lower premiums than other policies, but they cover your bills only when you go to providers in their networks, except in an emergency.
So if you're thinking of buying Medigap, you need to look at the details of each policy so that you can compare them properly. You can do this very easily on Medicare's website by following these steps:
Go to the Medicare website.

Enter your zip code, ignore the two questions (which don't bring you better information), and click on "Continue."

You'll see a list of all the Medigap policies.

Click on any lettered policy to bring up its details.

To see which insurance companies sell any plan, click on the "Companies offering this policy" link at the top of the details page for that plan. To find out the premium you would be charged, you need to contact the companies by phone or through their websites, using the contact information provided on this results page.
This online process is very straightforward. But it you prefer, you can call the Medicare help line at 800-633-4227 (TTY 877-486-2048) and ask a customer representative to mail you the details of Medigap policies and/or insurers in your area. Or you can get personal help from a counselor at your State Health Insurance Assistance Program (SHIP). For SHIP phone numbers, head to Appendix A.
If you live in Massachusetts, Minnesota, or Wisconsin
Massachusetts, Minnesota, and Wisconsin passed laws that established standardized Medigap policies earlier than federal law did, so these programs were allowed to continue.
Most Medigap benefits in these states are very similar to those in the national policies, with some differences. For example, Wisconsin's basic set of benefits adds 175 more days of inpatient mental health coverage than Medicare provides and 40 more home health visits. Minnesota adds a benefit for physical therapy. But you don't get as many plans to choose from as you would elsewhere in the country.
If you live in one of these states, entering your zip code into the Medigap plan finder program on Medicare's website, shows you the choice of policies available to you and the exact benefits provided in those policies.
If you have a Medigap policy that's no longer sold
Medigap insurance has changed over the years, most often in giving more protections to consumers. More than 20 years ago, federal law simplified the range of available policies, limiting them to ten standardized sets of benefits (except in the three states noted in the previous section), which made it far easier to choose among them.
Some policies — E, H, I, and J — have been discontinued, which means they can no longer be sold to new customers but can still be used by policyholders who choose to keep them.
If you still have one of these policies, their original benefits are unchanged for you. But you may find your premiums going up. This increase happens because each year, the pool of people who have the same policy becomes smaller. Those folks get older and their health problems increase, driving up costs for the insurance company, which in turn charges you more.
Policies H, I, and J used to be popular but expensive policies because they included some coverage for prescription drugs at a time when this coverage didn't exist in Medicare. But these policies haven't been sold to new customers since 2006, when Medicare prescription drug coverage (Part D) began.
At that time, people with these policies were offered the option of dropping the drug portion of the policies or changing to a Medigap policy that didn't cover medications — and, in each case, signing up for Part D drug coverage instead — or keeping those policies intact.
The snag is that the drug coverage under policies H, I, and J isn't creditable, meaning that Medicare doesn't consider it as good as Part D coverage. So if you kept one of these policies all this time and now choose to switch to Part D, you pay permanent late penalties in the form of higher Part D plan premiums.
The penalty amounts are calculated on how many months have elapsed since May 2006 — the deadline for Part D enrollment among people already receiving Medicare at that time.
For example, Alice had a Medigap J policy, which covered 50 percent of the cost of her drugs up to an annual dollar limit, and she kept it after the Part D drug benefit began in 2006. By late 2013, this policy had become expensive, and she considered switching to a Part D plan for her drugs.
But because she had gone 91 months without creditable coverage (June 2006 through December 2013), she faced late penalties of about $30 a month permanently added to her Part D plan's premiums.