How to Decrease in Basic Afghan Stitch
How to Decrease in Basic Afghan Stitch
To make a decrease in basic Afghan stitch, you decrease in the first half of a row of basic Afghan stitch, subtracting loops from your hook; then, you work off all the loops in the second half as usual.
To practice making decreases, you can use a 16-stitch swatch. To decrease 1 stitch, work the first half of the row: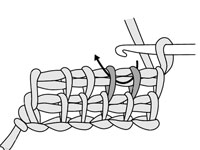 1

Insert your hook behind the first and second vertical bars in the row below.

You need to have 1 loop on your hook from the previous row.
2

Yarn over (yo) and draw the yarn through both stitches.

One decrease at the beginning of the row is complete.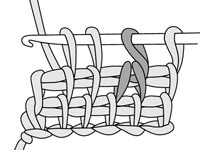 3

Work in basic Afghan stitch across the rest of the row.

You should have 15 loops on your hook. (Remember, you decreased 1 stitch.)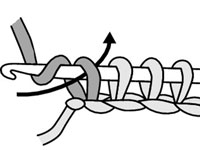 4

Yarn over (yo) the hook and draw your yarn through 1 loop on the hook.

Make sure you draw it through only one loop.