How To Customize the Internet Explorer Toolbar
How To Customize the Internet Explorer Toolbar
You can customize the toolbars that offer common commands in Internet Explorer so that the commands you use most often are included and the ones you have no use for are removed.
1

Open IE from the Desktop and be sure the Command bar is displayed.

If the Command bar is not displayed, right click in the toolbar area and click to select Command bar in the list that appears.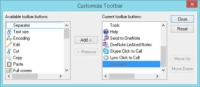 2

Click the Tools button on the right side of the Command bar, choose Toolbars, and then choose Customize.

The Customize Toolbar dialog box appears.
3

Click a tool on the left and then click the Add button to add it to the toolbar.

To remove a tool from the toolbar, click a tool on the right and then click the Remove button.

4

When you're finished, click Close to save your new toolbar settings.

The new tools appear. Click the double-arrow button on the right of the toolbar to display any tools that IE can't fit onscreen.

You can use the Move Up and Move Down buttons in the Customize Toolbar dialog box to rearrange the order in which tools appear on the toolbar. To reset the toolbar to defaults, click the Reset button in that same dialog box.

If you want to add some space between tools on the toolbar so they're easier to see, click the Separator item in the Available Toolbar Buttons list and add it before or after a tool button.