How to Get Directions on Your Android Tablet
How to Get Directions on Your Android Tablet
Your Android tablet can provide you with directions to get from point A to point B via the Maps app. Here's how to get those directions: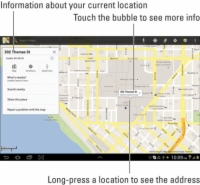 1

Touch a location's cartoon bubble displayed by an address, a contact, or a business or as a result of a map search.

A pop-up window appears, offering more information.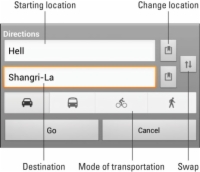 2

Touch the Directions icon in the location's cartoon bubble.

After touching the Directions icon (shown in the margin), you'll see a pop-up window. It's preset to help you get to the location you chose in Step 1 from your current location. You can change the My Location item to any other address, or swap the items.
3

Ensure that the starting location and destination are what you want.

If they're backwards, touch the Swap icon. You can touch the Bookmark icon to choose a favorite place, a contact, or a specific map location.
4

Choose a method of transportation.

The options available vary, depending on your location.
5

Touch the Go button.

A list of directions appears on the left side of the screen. On the right side of the screen you see your route plotted as a blue line on the map.

You can modify your journey by dragging the blue line around with your finger. Touch one of the waypoints, shown in the margin, to drag the route to other streets or nearby highways. The journey distance and travel time adjust as you change your route.