Put Bixby to Work on Your Samsung Galaxy S10
Put Bixby to Work on Your Samsung Galaxy S10
So, how does Samsung Bixby work? Say, you want to call someone. In the old days, high-end mobile phones would require you to train the voice-recognition software to understand the basics of how you speak. No more. Just tell Bixby who you want to call, by pressing and holding the Bixby button on the left side of your phone and saying, "Call Bill."
Be ready. In just a moment, your Samsung Galaxy S10 calls Bill. It's that easy.
However, if you know several people named Bill, your phone asks you (in a semi-pleasant voice) which "Bill" you want to call. You may have heard of "Siri" on the iPhone. Siri responds to questions you ask it. The Bixby app is the same idea, except it responds to the name "Bixby." After you teach Bixby your voice with a few basic commands, all you have to do is say, "Hi, Bixby."
If you want to call Bill Boyce, a person from your contact list, say "Hi, Bixby. Call Bill Boyce." Within a moment, his phone rings.
How to set up Bixby for your voice
From the Bixby Settings page, scroll down to Voice Wake-up and toggle the button to on. The screen shown in the following figure appears. When you're ready, tap the Bixby logo.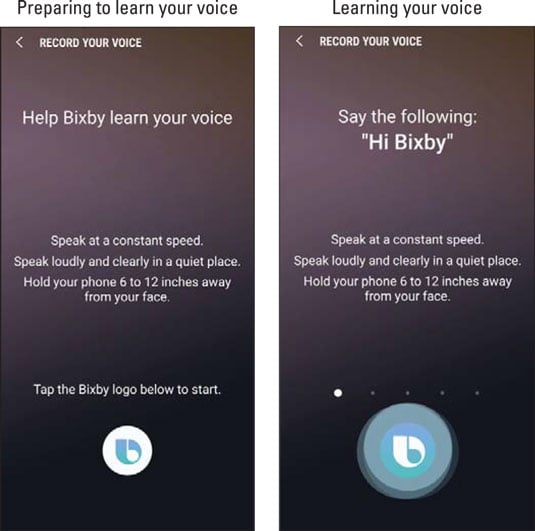 You'll be asked to say "Hello, Bixby" a few times, as well as a few other phases. Then it's ready to go. You simply say, "Hi, Bixby" followed by your request.
Dictating a text with Bixby
To send a text, say the words, "Hi, Bixby. Send a text." Done. The text screen pops up.
Bixby asks you, "Who would you like to message?" Give the name. It looks up their number from your contact list. I say, "Ludwig van Beethoven." Bixby then asks you for your message. Go ahead and say what you would have typed.
Bixby then converts your words into a message. It displays what it thinks you said in a box, as shown.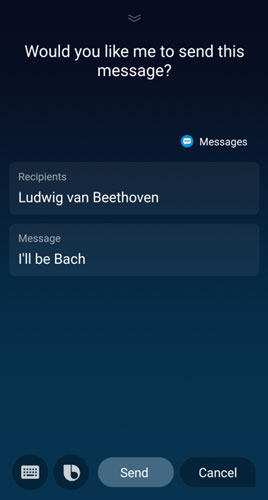 Read it before you send it. If it is correct, just say "Send" and off it goes. If it's incorrect, you can say "Cancel," and it won't send that message. You can then try again. It's that easy. Give it a try!
Tasks you can do with Bixby
Texting is a straightforward example, but it is just one of the tasks Bixby can do for you. You can ask Bixby to do all kinds of things on your phone. Some examples include
Telling you the time
Setting an alarm
Turning Wi-Fi on or off
Telling you the weather forecast
Setting a countdown timer
Recording your voice
Opening an app
Playing a playlist
Adding an appointment to your schedule
Finding a local restaurant, store, or public location
Navigating to an address or location
All you need to do is ask, and Bixby does a good job finding what you want. Here is the best way to learn what Bixby can do: Ask Bixby, "What services do you offer?" The screen shown here appears.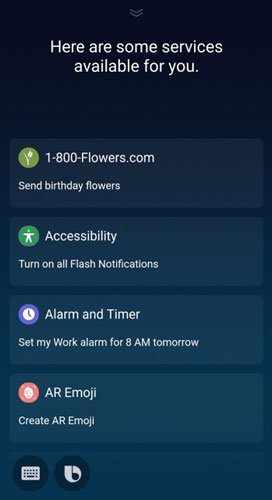 Each app comes with a suggestion under the app name. For example, the app suggests what you can do, such as "Send birthday flowers." You can learn more when you tap the 1-800-Flowers.com link. A complete list of apps is shown here. This list is impressive.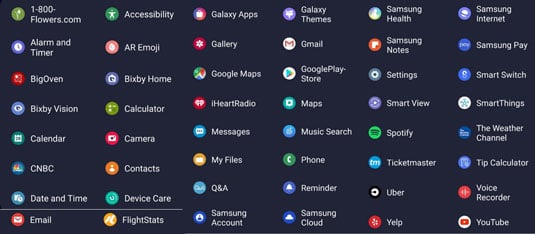 Most applications have a pretty good list of commands. The following figure shows a more modest list of options for the Calculator app, to give you a sense of what's there.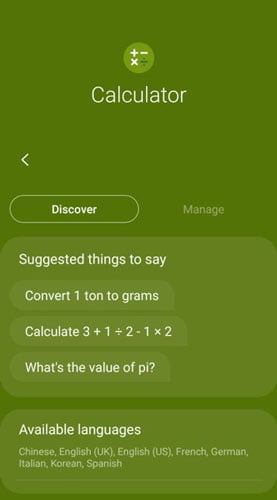 Go ahead and try some math problems to get the hang of it. Who knew math would be so easy? (And to think Mr. McCrea said that we wouldn't always have a calculator when we needed it.)
All this talking and calculating has made me a little hungry, but not too hungry that I can't ask Bixby, "Hi, Bixby. Where is the closest McDonald's using Google Maps?" Bixby comes back with some options, as shown.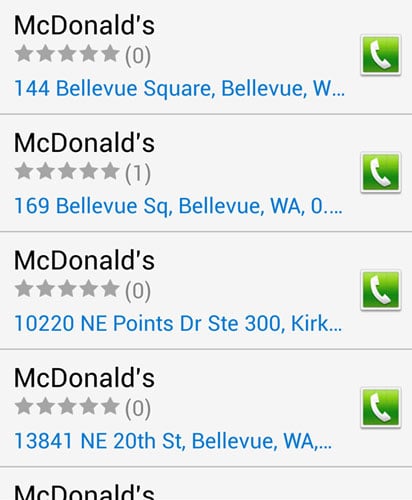 Then you can ask it for directions to the McDonald's you choose. This request causes Bixby to hand you over to your preferred navigation application, bringing up a screen like the one shown.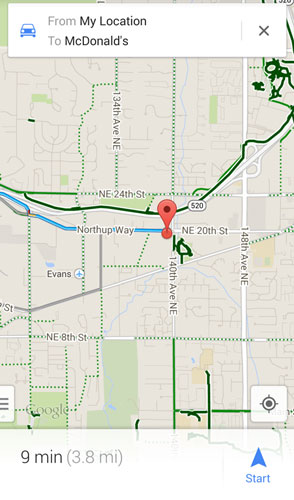 You could also use other apps, such as Yelp, if you prefer getting information other than just location. For example, if you want to find the best Italian restaurant in Seattle, just ask and you see the following screen.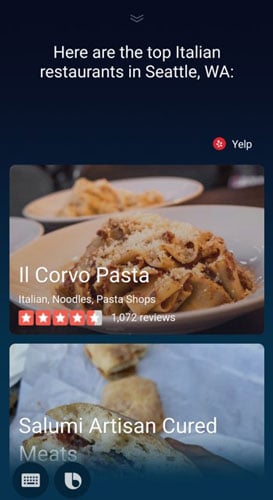 Now all you need to do is drive there safely and enjoy!