Turn MP3 Files into CDs with Windows Media Player
Turn MP3 Files into CDs with Windows Media Player
Windows Media Player (WMP) allows you to burn your own audio CDs from your MP3 collection. The resulting disc is a perfect match for any home or car CD player and can also be played in your PC's CD or DVD drive.
To record an audio CD from MP3 files, run Windows Media Player and follow these steps: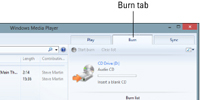 1

Click the Burn tab at the top right of the window.

This opens a tab where you collect and arrange the music you want to burn to CD.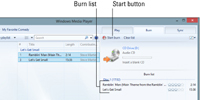 2

Drag tracks and playlists from the left onto the burn list.

Arrange the songs on the burn list in the order you want them to appear on the CD.
3

Load a blank CD-R into your recorder.

Only certain audio CD players can read a CD-RW (rewriteable disc), so always use write-once CD-R media for true compatibility with all audio CD players.
4

Click the Start Burn button — and sit back and relax while your new disc is recorded.

WMP will eject the CD when it's done burning.