How to Run a Diagnostics Program on Your Laptop
How to Run a Diagnostics Program on Your Laptop
Many laptop manufacturers provide diagnostics programs as part of the basic software that comes with the laptop. This helps both the user and the company because it pinpoints problems with the hope that at least some can be fixed without sending the laptop back to its maker.
One big caveat here: You can't run a diagnostic program on a laptop that won't boot up and show at least minimal signs of life. The program needs to use the processor and the system's basic pathways to explore the hardware.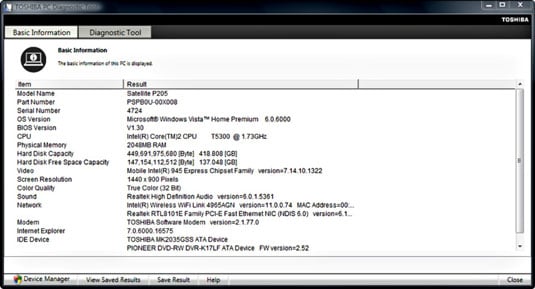 The Toshiba diagnostics information screen offers a quick inventory of the essential parts of your machine.
For example, current models of Toshiba laptops come with a utility creatively named Toshiba PC Diagnostic Tool, shown here. The first part consists of a basic information window that displays hardware details, including the model, serial number, version of the operating system detected, and major hardware components.
The second part of the utility tests all of the components installed within the laptop; its tests stop at the ports. You can choose to run all tests or concentrate on specific suspects, as shown here.

The test on this Toshiba laptop model excludes the dial-up modem and tells the software not to bother testing the floppy disk because it's not there.
If your laptop doesn't come with a diagnostic program, or if you want to add software that includes more detailed or more rigorous testing, you can purchase utilities from other sources. Some programs let you loop a particular test over and over again, which is one way to find an intermittent failure. One product that does a good job is CheckIt diagnostics from Smith Micro Software, Inc., shown here.

Advanced diagnostics tests include detailed exercises and reports on all of the components of your laptop.