How to Eject a Disc from Your PC
How to Eject a Disc from Your PC
After you insert a disc into your PC's disc drive, you eventually want to get that disc back out. Ejecting a disc from a PC running Windows is a pretty simple process. To eject a disc from a DVD drive: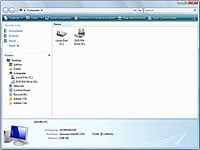 1

Open the Computer window on your PC.

Either double-click the Computer icon on the desktop, or open the Start menu and choose Computer.