ASUS Eee PC For Dummies Cheat Sheet
ASUS Eee PC For Dummies Cheat Sheet
If you're interested in an Asus Eee PC, check out a model guide of basic specifications to pick the right model for you. To easily maneuver your way around your mini-laptop, learn a few basic control and function keyboard commands and the nifty things you can do with the OpenOffice preinstalled programs. If you need help with the Eee PC take advantage of some informative websites for help.
Asus Eee PC Models — Basic Specifications
Asus has released quite a variety of Eee PCs, and it can be a little confusing to keep track of them all. The following chart is a brief overview of Eee PC models and their basic specifications: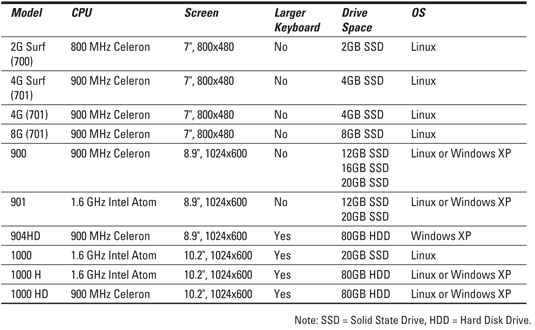 Asus Eee PC Function and Control Keyboard Commands
To navigate your way around your Asus Eee PC easily, take a look at this chart of some common keyboard commands using the control and functions keys:
Fn+F1
Puts the Eee PC in standby mode. Press the Power button to
resume.
Fn+F2
Turns the wireless card on and off. On models with Bluetooth,
also Toggles Bluetooth on and off.
Fn+F3
Decreases the screen brightness.
Fn+F4
Increases the screen brightness.
Fn+F5
Toggles the display mode between the Eee PC screen, an attached
VGA Device (monitor or projector), or both.
Fn+F6
Runs the Task Manager.
Fn+F7
Mutes the speaker.
Fn+F8
Decreases speaker volume.
Fn+F9
Increases speaker volume.
Fn+F11
Turns keyboard Num lock on and off.
Fn+F12
Turns keyboard Caps lock on and off.
Fn+Ins
Runs the Print Screen program in Linux. Saves a copy of the
screen to the clipboard in Windows.
House
Shows the Linux desktop.
Ctrl+Alt+Del
In Windows, brings up the Task Manager and allows you to reset
your computer.
Ctrl+Alt+Backspace
In Linux performs an immediate system reset.
Asus Eee PC Preinstalled Programs
The Asus Eee PC may be small but it's a surprising little workhorse. The Linux version of the mini-laptop comes preinstalled with OpenOffice programs for word processing, spreadsheet calculations, creating and giving presentations, and performing other work-related activities. You can find these programs in the Linux desktop's Work tab.
| Program | Function |
| --- | --- |
| OpenOffice | Writer Word Processor |
| OpenOffice Calc | Spreadsheet |
| OpenOffice Impress | Presentations (similar to PowerPoint) |
| OpenOffice Draw | Vector graphics editor |
| OpenOffice Base | Database |
| OpenOffice Math | Mathematical equation editor |
Asus Eee PC Website Resources
If you have questions about Asus Eee PCs or just want to stay current on the technical side of the Eee PC world, a tremendous amount of information can be found on the Internet. This list shows some official and unofficial support and download sites and blogs devoted to the Eee PC: