How to Find an Available Wireless Network in Windows Vista
How to Find an Available Wireless Network in Windows Vista
To use an available wireless network, your PC must have a wireless networking card. The first step is to find an available wireless network. The second step is to connect to the wireless network.
To find an available wireless network in Windows Vista, follow these steps: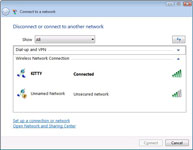 1

Choose the Connect To item from the Start menu.

The Connect to a Network window appears. The window lists various things you can connect to. The wireless networks broadcasting within range of your laptop's wireless networking card are shown in the Wireless Network Connection area.
2

Choose a network from the list to highlight it.

You're likely to see several wireless networks: either those of your neighbors or of surrounding businesses.
3

Click the Connect button.

Windows attempts to connect to the network.

You may see a warning telling you that the network is unsecured. This message is common for certain free wireless networks that don't require a password for connection. Click the Connect Anyway option to proceed.
4

Enter the network's password, if you're prompted to do so.

In this day and age, most networks are — wisely — secure (password protected). If you don't know the password, you don't get in.
5

Choose whether the network is public or private.

This is a vital question. A public network is one that's out in public, one that others can also use. In that situation, you want to ensure that your laptop is locked down and not open to snooping.

A private network is one in your home or office, available only to safe computers or folks you know. Such a network is more open than the public network.
6

Choose whether to save the network's connection information.

You should save the information if you plan on using that wireless connection again. That way, you don't have to reenter the password every time you connect.
7

Click the Close button.

And you're online!
8

Click the Continue button if you're prompted by a User Account Control dialog box.

You're now connected and ready to use the network. A wireless networking icon appears in the notification area on the taskbar, showing that you're connected; point the mouse at that icon for more information.