How to Configure Your Wireless Access Point
How to Configure Your Wireless Access Point
After installing a wireless access point (WAP) for your home network, you can configure your device. To quickly configure your wireless access point with basic settings, you can use the CD that was included. Insert the CD, and follow the instructions when it starts. If your device did not come with a CD then follow the instructions from the manufacturer.
Alternatively, you can open an Internet Explorer browser window. Many wireless access points in their factory default settings will automatically launch a setup wizard when you launch a Web browser. If not, you will need to enter the default address, which you can find in the instructions.
These are the steps to configure a NETGEAR WGR614v7 wireless router, but your steps may be a little different depending on the wireless device you're using. For the wireless router in this example, the default login ID is admin and the default password is password. Your device's login credentials might be different; read the setup instructions included with your wireless router.
Change the default password on your wireless access point as soon as possible; otherwise, a not-so-neighborly neighbor could log into your wireless access point and change your settings — thereby locking you out of your own network! If you are not automatically prompted to change it the first time you log in, look for a menu option to Set Password, Change Password, or Manage Accounts.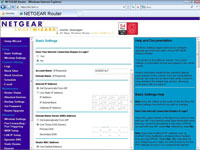 1

Under Setup on the left side of the window, click Basic Settings.

The Basic Settings window appears. Refer to the Internet connection instructions provided by your Internet Service Provider (ISP) before you continue with the next step.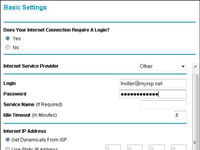 2

If your ISP does not require you to log in every time you connect to the Internet, select 'No' under 'Does Your Internet Connection Require A Login.'

Otherwise, select Yes, choose your ISP from the drop-down menu, enter the login and password provided by your ISP (your login is most likely your e-mail address), and the service name (if required). If a service name is not required, leave it blank. Finally, you can enter an idle timeout (the period of inactivity, in minutes, after which your ISP automatically logs you off the Internet).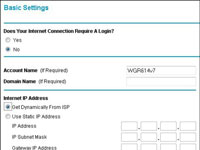 3

Under Internet IP Address, select Get Dynamically from ISP.

This is the most common configuration (and the easiest to set up). Every time you connect to the Internet, your ISP will automatically assign you an IP address and push the required connection information to your wireless router. Alternatively, if your ISP has assigned you a permanent static IP address, select Use Static IP Address and enter the IP address, IP subnet mask, and gateway IP address provided by your ISP.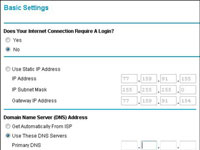 4

Under Account Name and Domain Name, enter your host or system name — and a domain name, if required.

Some ISPs require you to enter an account name, which may be the same as your Internet connection login ID (if login is required), or some other specific name assigned by your ISP. Otherwise, you can leave this information blank.
5

Under Domain Name Server (DNS) Address, select Get Automatically from ISP.

This is the most common configuration (and the easiest to set up). Otherwise, select Use These DNS Servers and enter the primary DNS and secondary DNS information provided by your ISP.
6

Under Router MAC Address, select Use Default Address.

This is the most common configuration. If your ISP requires MAC authentication (extremely rare), select either Use Computer MAC Address or Use This MAC Address and enter the physical address of your PC's wireless LAN adapter.
7

Click Apply, and then click Test.

This will save and verify your settings.