How to Hide the Action Center Notification Icon in Windows 7
How to Hide the Action Center Notification Icon in Windows 7
You can choose to hide the Windows 7 Action Center Notification icon (white flag) in the notification area on the right side of the Windows 7 taskbar if you no longer want it displayed. The following steps also can be used to hide other icons in this area. At any time, you also can choose to restore the default icon behaviors from the Notification Area Icons window.
1

In the notification area of the Windows taskbar, click the Up arrow to the left of the Action Center icon.

The notification area appears at the right end of the Windows taskbar. The Action Center icon appears as a white flag.
3

Click the option bar to the right of Action Center.

A drop-down list of options appears.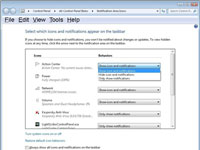 4

Choose Show Icon and Notifications, Hide Icon and Notifications, or Only Show Notifications, and then click OK.

The window closes. Continue with the next step if you want to restore the default icon behaviors.