Set Up an Internet Host under Windows 8 Using DHCP
Set Up an Internet Host under Windows 8 Using DHCP
To set up a network under Windows 8 using DHCP and a shared Internet connection — where your DSL or cable modem connects directly to the PC — you need to configure settings on that PC. (That lucky computer becomes your Internet host, providing the DHCP functionality for your network. The other computers that connect to the host are clients.)
If your host PC is using a NIC to connect to a DSL or cable modem (as most do) and the switch doesn't accept a direct connection to your modem, you need a second NIC installed in that computer so that you can connect it to the switch!
Ready to go? Follow these steps:
1

Display the Charms bar, click Search and then click Settings. Type Network into the Search box.

Make certain you're using an Administrator-level user account, so that you'll have full rights to set things up. (Simply log in using the account that you used to install Windows 8, and you'll be using an Administrator account.)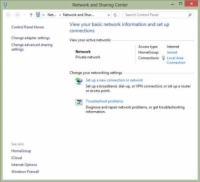 2

Click the Network and Sharing Center button in the Search results pane to display the window you see here.

Make sure that all networking hardware has been installed, connected, and turned on.
3

Click the Connections link for your Internet connection.

Typically, this reads Ethernet. Windows 8 displays the Status dialog box for your Internet connection.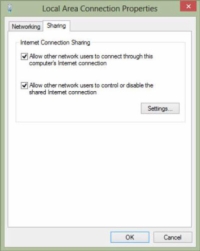 4

Click the Properties button. Click the Sharing tab.

To see the Sharing tab, you'll need a second NIC.
5

Select the Allow Other Network Users to Connect through This Computer's Internet connection check box.

To maintain control of your shared Internet connection on the host PC, click the Allow Other Network Users to Control or Disable the Shared Internet Connection check box to disable it. If you leave this check box enabled, client PCs will be able to turn off your shared Internet connection — something you generally don't want.
6

Click OK to save your changes.

Then click Close on the Status dialog box.