Reading
Read faster, read deeper, read with a bigger vocabulary and a more critical eye. Look here for tips and exercises to help you strengthen your reading muscle.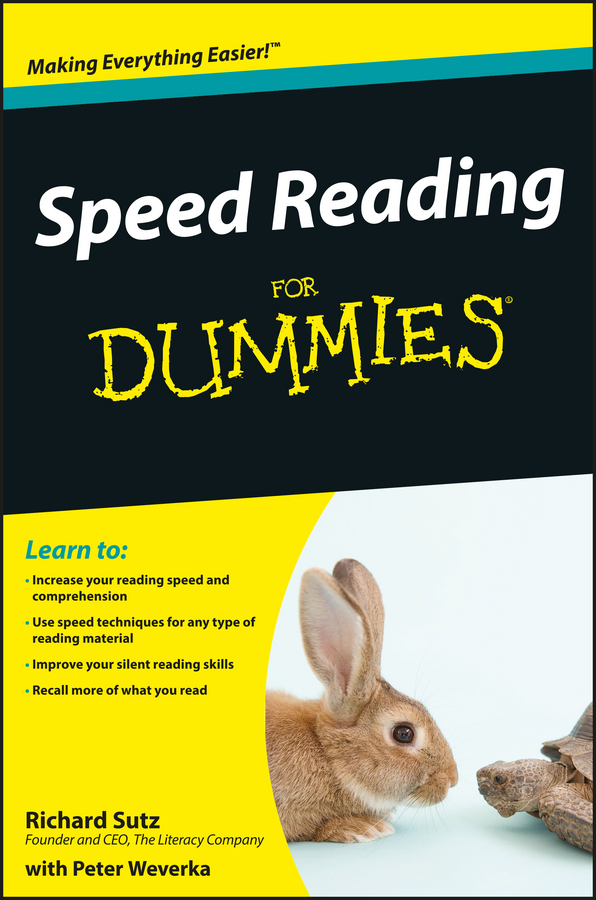 Reading
Speed Reading For Dummies
Learn to: Increase your reading speed and comprehension Use speed techniques for any type of reading material Improve your silent reading skills Recall more of what you read The fun and easy way® to become a more efficient, effective reader! Want to read faster — and recall more of what you read? This practical, hands-on guide gives you the techniques you need to increase your reading speed and retention, whether you're reading books, e-mails, magazines, or even technical journals! You'll find reading aids and plenty of exercises to help you read faster and better comprehend the text. Yes, you can speed read — discover the skills you need to read quickly and effectively, break your bad reading habits, and take in more text at a glance Focus on the fundamentals — widen your vision span and see how to increase your comprehension, retention, and recall Advance your speed-reading skills — read blocks of text, heighten your concentration, and follow an author's thought patterns Zero in on key points — skim, scan, and preread to quickly locate the information you want Expand your vocabulary — recognize the most common words and phrases to help you move through the text more quickly Open the book and find: Tried-and-true techniques from The Reader's Edge® program How to assess your current reading level Tools and exercises to improve your reading skills Speed-reading fundamentals you must know Helpful lists of prefixes, suffixes, roots, and prime words A speed-reading progress worksheet Exercises for eye health and expanded reading vision Tips for making your speed-reading skills permanent
Explore Book
Buy On Amazon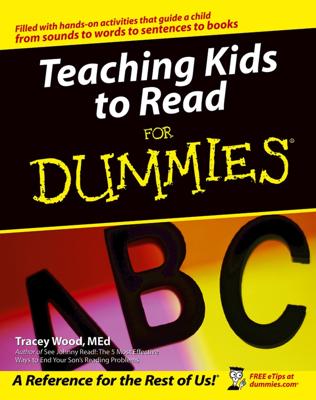 Reading
Teaching Kids to Read For Dummies
You're thinking of teaching a child to read. What a great idea! Now all you need is exactly the right blueprint. This easy-to-follow book is written with two people in mind; you, and the child you're thinking of teaching. Mother and children's reading specialist Tracey Wood gives you all the down-to-earth, honest information you need to give a child a happy, solid start with reading. Teaching Kids to Read For Dummies is for parents of young children who want to give their kids a head start by teaching them to read before they enter school or to supplement their children's school instruction, as well as teachers and caregivers of young children. Filled with hands-on activities that progress a child from sounds to words to sentences to books, this friendly guide shows you how to: Prepare a child to read Sharpen his listening skills Correct her errors graciously Choose the right books Have kids read out loud Find help if you need it Whether the child you want to teach is two or twelve; fast paced or steady; an absolute beginner or someone who's begun but could use a little help, this empathetic book shows you how to adapt the simple, fun activities to your child's individual needs. You'll see how to make activities age appropriate, how to add more challenge or support, and how to make gender allowances if that's relevant. Plus, you'll discover how to: Lay the foundation for good reading skills Tell the difference between a reading delay and a reading problem Help your child build words from letters and sounds, advance to short and long vowel words, and conquer syllables and silent letters Select entertaining workbooks, recycle them, and make up your own reading activities Get your child ready for sentences Keep your child reading — with others or on his own Complete with lists of word families, phonics rules, and reading resources, Teaching Kids to Read For Dummies will help you make learning fun for your child as he or she develops this critical skill!
Explore Book
Buy On Amazon