Pre-Calculus
Can learning (or reviewing) pre-calc really be fun? With our breakdowns and practice problems, it'll come pretty close.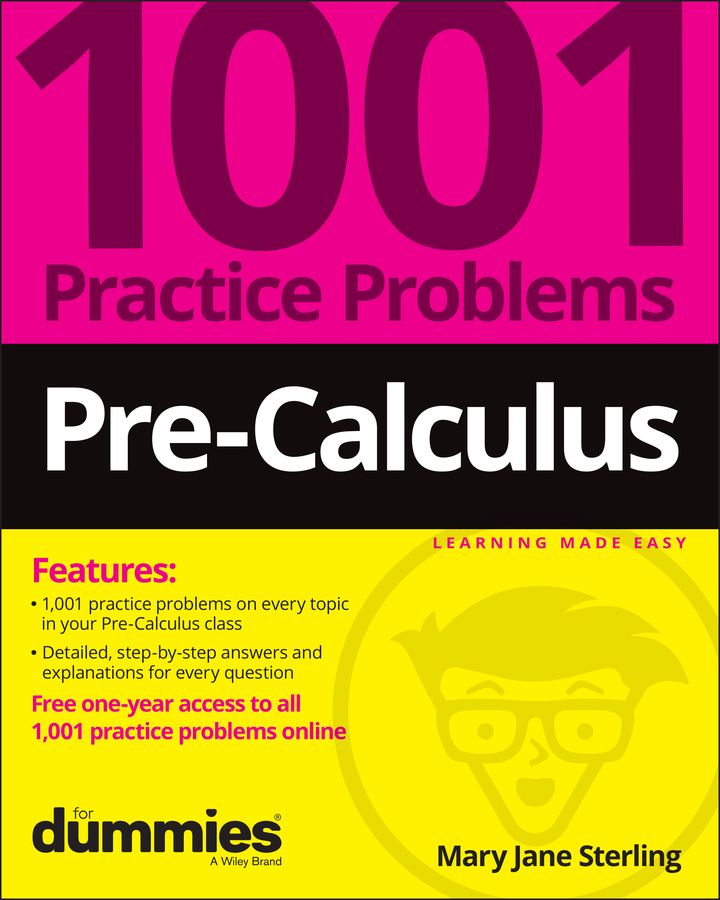 Pre-Calculus
Pre-Calculus: 1001 Practice Problems For Dummies (+ Free Online Practice)
Published 06-01-2022
Practice your way to a better grade in pre-calc Pre-Calculus: 1001 Practice Problems For Dummies gives you 1,001 opportunities to practice solving problems from all the major topics in Pre-Calculus—in the book and online! Get extra help with tricky subjects, solidify what you've already learned, and get in-depth walk-throughs for every problem with this useful book. These practice problems and detailed answer explanations will turn you into a pre-calc problem-solving machine, no matter what your skill level. Thanks to Dummies, you have a resource to help you put key concepts into practice. Work through practice problems on all Pre-Calculus topics covered in school classes Read through detailed explanations of the answers to build your understanding Access practice questions online to study anywhere, any time Improve your grade and up your study game with practice, practice, practiceThe material presented in Pre-Calculus: 1001 Practice Problems For Dummies is an excellent resource for students, as well as for parents and tutors looking to help supplement Pre-Calculus instruction. Pre-Calculus: 1001 Practice Problems For Dummies (9781119883623) was previously published as 1,001 Pre-Calculus Practice Problems For Dummies (9781118853320). While this version features a new Dummies cover and design, the content is the same as the prior release and should not be considered a new or updated product.
Explore Book
Buy On Amazon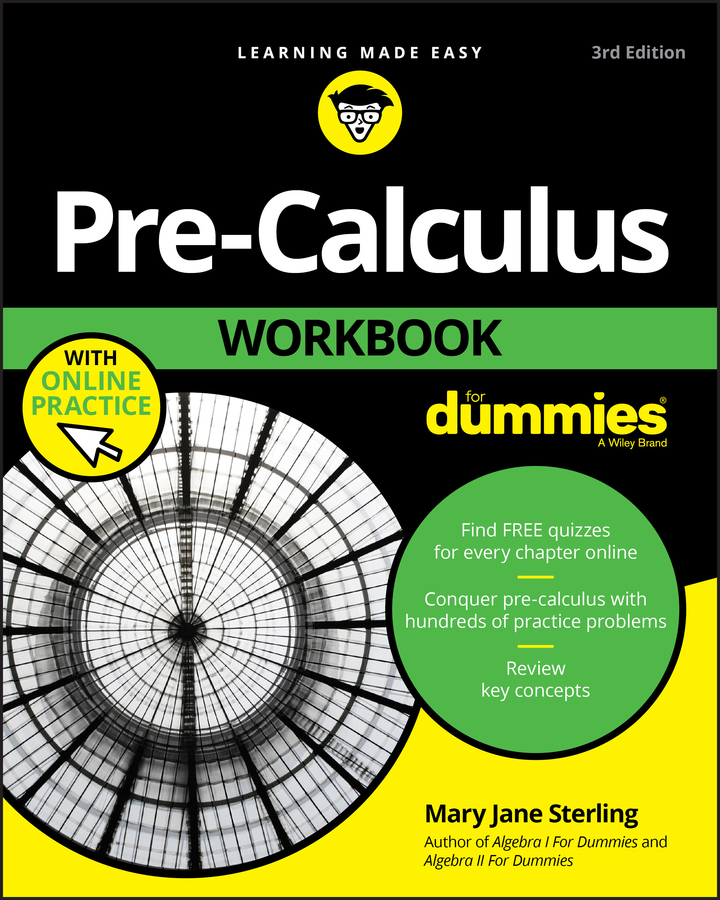 Pre-Calculus
Pre-Calculus Workbook For Dummies
Published 04-02-2019
Get a handle on pre-calculus in a pinch! If you're tackling pre-calculus and want to up your chances of doing your very best, this hands-on workbook is just what you need to grasp and retain the concepts that will help you succeed. Inside, you'll get basic content review for every concept, paired with examples and plenty of practice problems, ample workspace, step-by-step solutions, and thorough explanations for each and every problem. In Pre-Calculus Workbook For Dummies, you'll also get free access to a quiz for every chapter online! With all of the lessons and practice offered, you'll memorize the most frequently used formulas, see how to avoid common mistakes, understand tricky trig proofs, and get the inside scoop on key concepts such as quadratic equations. Get ample review before jumping into a calculus course Supplement your classroom work with easy-to-follow guidance Make complex formulas and concepts more approachable Be prepared to further your mathematics studies Whether you're enrolled in a pre-calculus class or you're looking for a refresher as you prepare for a calculus course, this is the perfect study companion to make it easier.
Explore Book
Buy On Amazon
Pre-Calculus
Pre-Calculus For Dummies
Published 11-13-2018
Get ahead in pre-calculus Pre-calculus courses have become increasingly popular with 35 percent of students in the U.S. taking the course in middle or high school. Often, completion of such a course is a prerequisite for calculus and other upper level mathematics courses. Pre-Calculus For Dummies is an invaluable resource for students enrolled in pre-calculus courses. By presenting the essential topics in a clear and concise manner, the book helps students improve their understanding of pre-calculus and become prepared for upper level math courses. Provides fundamental information in an approachable manner Includes fresh example problems Practical explanations mirror today's teaching methods Offers relevant cultural references Whether used as a classroom aid or as a refresher in preparation for an introductory calculus course, this book is one you'll want to have on hand to perform your very best.
Explore Book
Buy On Amazon