Pre-Algebra
As you advance through pre-algebra, the numbers really start flying. Our how-tos help you solve equations, figure out fractions, and work those word problems.
Pre-Algebra
Basic Math & Pre-Algebra All-in-One For Dummies (+ Chapter Quizzes Online)
Absolutely everything you need to get ready for Algebra Scared of square roots? Suspicious of powers of ten? You're not alone. Plenty of school-age students and adult learners don't care for math. But, with the right guide, you can make math basics "click" for you too! In Basic Math & Pre-Algebra All-in-One For Dummies, you'll find everything you need to be successful in your next math class and tackle basic math tasks in the real world. Whether you're trying to get a handle on pre-algebra before moving to the next grade or looking to get more comfortable with everyday math—such as tipping calculations or balancing your checkbook—this book walks you through every step—in plain English, and with clear explanations—to help you build a firm foundation in math. You'll also get: Practice quizzes at the end of each chapter to test your comprehension and understanding A bonus online quiz for each chapter, with answer choices presented in multiple choice format A ton of explanations, examples, and practice problems that prepare you to tackle more advanced algebraic conceptsFrom the different categories of numbers to mathematical operations, fractions, percentages, roots and powers, and a short intro to algebraic expressions and equations, Basic Math & Pre-Algebra All-in-One For Dummies is an essential companion for anyone who wants to get a handle on the foundational math concepts that are the building blocks for Algebra and beyond.
Explore Book
Buy On Amazon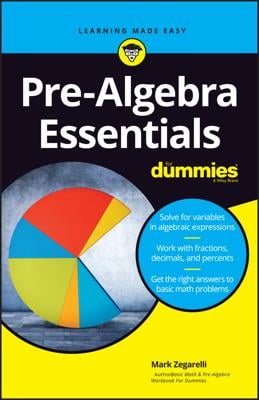 Pre-Algebra
Pre-Algebra Essentials For Dummies
Pre-Algebra Essentials For Dummies (9781119590866) was previously published as Pre-Algebra Essentials For Dummies (9780470618387). While this version features a new Dummies cover and design, the content is the same as the prior release and should not be considered a new or updated product. Many students worry about starting algebra. Pre-Algebra Essentials For Dummies provides an overview of critical pre-algebra concepts to help new algebra students (and their parents) take the next step without fear. Free of ramp-up material, Pre-Algebra Essentials For Dummies contains content focused on key topics only. It provides discrete explanations of critical concepts taught in a typical pre-algebra course, from fractions, decimals, and percents to scientific notation and simple variable equations. This guide is also a perfect reference for parents who need to review critical pre-algebra concepts as they help students with homework assignments, as well as for adult learners headed back into the classroom who just need to a refresher of the core concepts. The Essentials For Dummies SeriesDummies is proud to present our new series, The Essentials For Dummies. Now students who are prepping for exams, preparing to study new material, or who just need a refresher can have a concise, easy-to-understand review guide that covers an entire course by concentrating solely on the most important concepts. From algebra and chemistry to grammar and Spanish, our expert authors focus on the skills students most need to succeed in a subject.
Explore Book
Buy On Amazon