Nonprofits
Journey through the magical, mission-driven land of grant writing, hosting events, holding board meetings, extending your reach, and surviving tax time.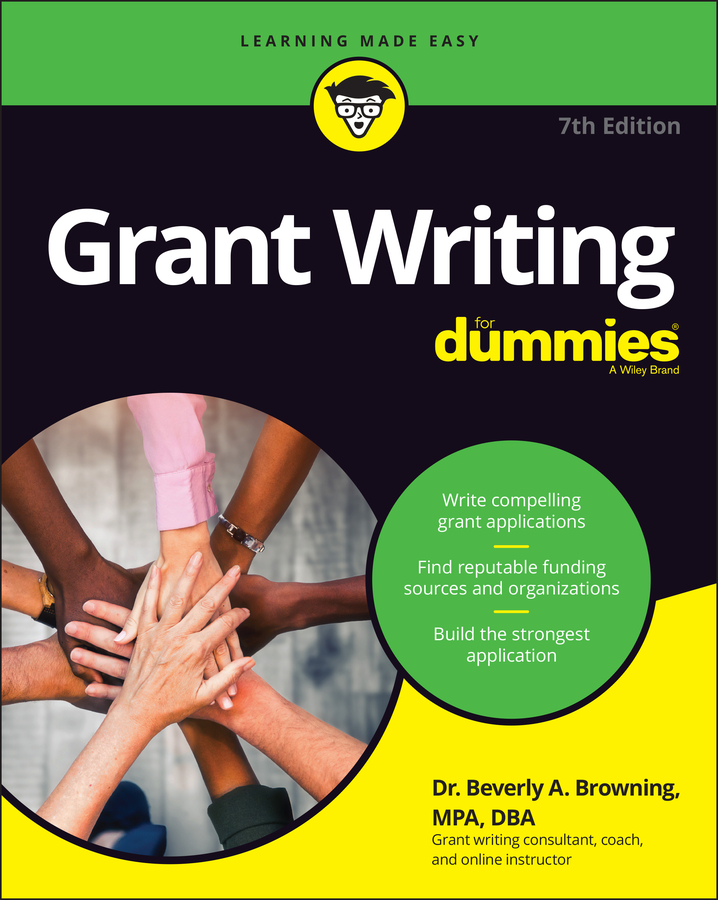 Nonprofits
Grant Writing For Dummies
Published 03-29-2022
Write award-winning grant proposals that build organizational capacity! For nonprofit and for-profit firms alike, grants can be a singular generator of growth and impact. But many leaders are intimidated and confused by the sometimes-complex grant application process. The truth, however, is that anyone can learn to write and send a powerful grant letter with the right help. In Grant Writing For Dummies, Dr. Beverly Browning draws on over four decades of experience writing grant applications and training grant writers to deliver a comprehensive and easy-to-follow roadmap to drafting and submitting grant applications that get funded. You'll learn to craft the strongest application possible, find the best sources of funding from online databases, and present a realistic project budget plan. You'll also find: Example types of funding requests that demonstrate how to apply the concepts discussed in the book New and updated material walking you through the entire grant-writing process, from beginning to end Writing techniques that capture the imaginations of grant reviewers who decide which applicants walk away empty-handed and which ones receive cashWhether you're looking to fund your nonprofit, grow your business, or develop your research venture, you'll find the guidance you need in Grant Writing For Dummies.
Explore Book
Buy On Amazon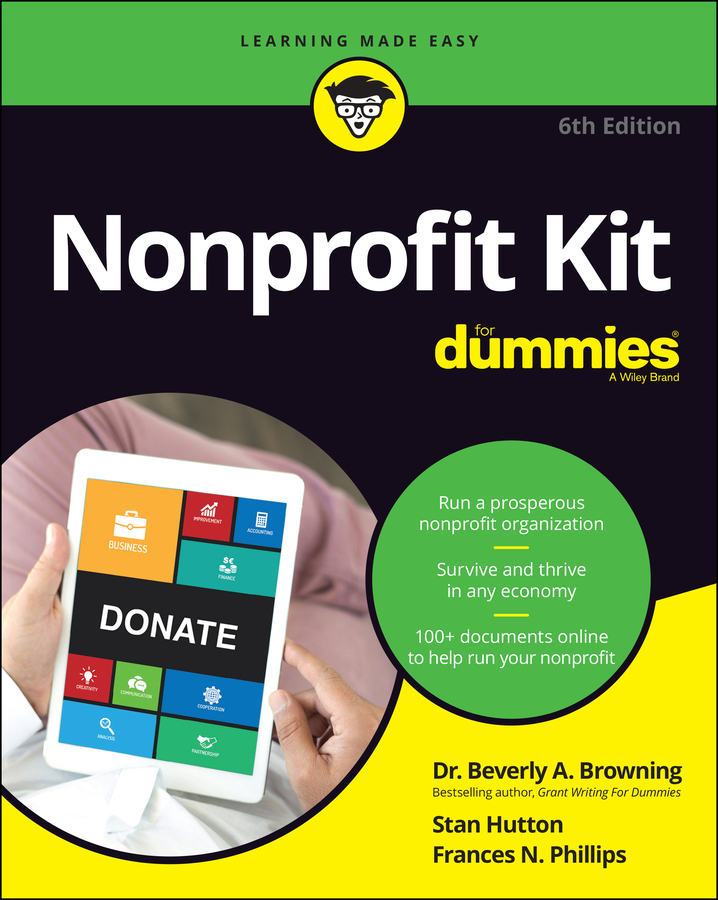 Nonprofits
Nonprofit Kit For Dummies
Published 10-26-2021
Helping you successfully start a nonprofit organization the right way or strengthening the governing, financial, and capacity-building framework of your existing nonprofit organization! Ready to do some good? Ready to give back to the community? You better be! Because in Nonprofit Kit For Dummies you'll find the tools and strategies you need to organize and shift your nonprofit into high gear. Buckle up and hit the gas as you master the latest techniques in nonprofit startup, recruiting the right board members, identifying collaborative stakeholders, grant writing, online fundraising, and marketing. You'll learn to improve your management practices, raise more money, give more effectively, and plan more creatively. This book's supplementary online resources include expertly written organization plans, financial procedure outlines and guides, and event planning tools you can implement immediately to help your nonprofit help more people. It also walks you through how to: Find up-to-date info on the latest web-based campaign tools, like Kickstarter, Kiva, and others Use templates, checklists, and plans to organize your nonprofit's finances, employee relations, and legal structure Survive and thrive during challenging times, like those caused by pandemics and natural disasters Starting and running a nonprofit organization takes heart, courage, and know-how. You've got the first two taken care of. Let Nonprofit Kit For Dummies help you with the knowledge as you lift your nonprofit to new heights.
Explore Book
Buy On Amazon
Nonprofits
Nonprofit Law and Governance For Dummies
Published 05-07-2007
As the number and size of nonprofit organizations continues to grow, NFPs are coming under ever-increasing government scrutiny. Soon Congress will require that nonprofits comply with rigorous accounting and governance standards very similar to those set forth for for-profits in the Sarbanes-Oxley Act. If you work for a nonprofit and are concerned about meeting impending changes to tax and finance standards governing NFPs this book is for you. In simple, straight-forward language, this guide demystifies the often perplexing world of nonprofit governance in the age of Sarbanes-Oxley. Author, Jill Gilbert Welytok, an attorney who heads the Sarbanes-Oxley division of a major Midwest law firm, walks you step-by-step through the process of evaluating your governance structures. She arms you with tips and strategies for adopting uniform standards under current governance and tax laws, while preparing you for any upcoming changes. She shows you how to protect your tax status and reassure donors and volunteers while staying true to your organization's mission. And she fills you in on what you need to know to: Comply with state laws and regulations Get and keep tax–exempt status Avoid lawsuits and other legal landmines Handle the media Anticipate future trends Make sense of the Sarbanes–Oxley act Including sample nonprofit bylaws and a complete audit committee report, Nonprofit Law & Governance for Dummies, Second Edition is an indispensable survival tool for 21st century nonprofits.
Explore Book
Buy On Amazon