Music Composition
Make like a songwriter, whether your idol is Bach or Beyonce.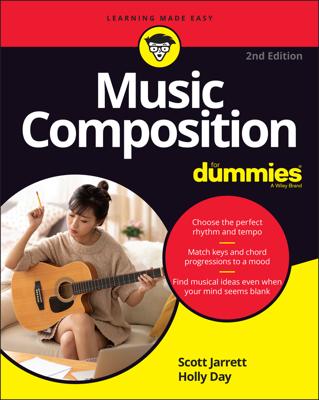 Music Composition
Music Composition For Dummies
You can hum it, but can you write it down? When most people think of a composer, they picture a bewigged genius like Mozart or Beethoven frenetically directing mighty orchestras in the ornate palaces of Vienna. While that may have been the case once upon a time, modern composers make themselves heard far beyond the classical conservatoire and concert hall. These days, soundtracks are in high demand in industries such as TV, film, advertising, and even gaming to help create immersive and exciting experiences. Whatever your musical ambitions—composing a dark requiem in a beautiful Viennese apartment or producing the next great Star Wars-like movie theme in LA—the fully updated Music Composition For Dummies hits all the right notes to help you become confident in the theory and practice of composition. To help you translate your musical ideas from fleeting tunes in your head to playable bars and notation on paper, professional composer and instructor Scott Jarrett and music journalist Holly Day take you on a friendly step-by-step journey through the process of musical creation, including choosing the right rhythms and tempos, creating melodies and chord progressions, and working with instruments and voices. You'll learn how to match keys and chords to mood, use form to enhance your creativity, and write in different styles from pop to classical—and you'll even learn how to keep hammering away when inspiration eludes you. Organize and preserve your musical ideas Formalize your knowledge with professional vocabulary Get familiar with composition apps and software Make a demo and market on social media Filled with musical exercises to help you acquire the discipline you need for success, Music Composition For Dummies has everything you need to turn your inner soundtrack into a tuneful reality!
Explore Book
Buy On Amazon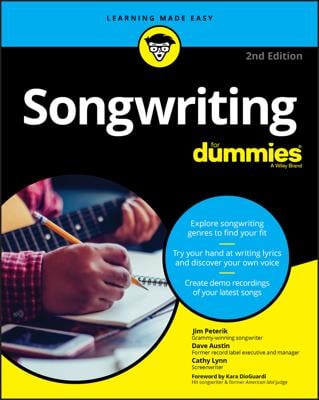 Music Composition
Songwriting For Dummies
Proven techniques for songwriting success This friendly, hands-on guide tackles the new face of the recording industry, guiding you through the shift from traditional sales to downloads and mobile music, as well as how you can harness social media networks to get your music "out there." You get basic songwriting concepts, insider tips and advice, and inspiration for writing — and selling — meaningful, timeless songs. Songwriting 101 — get a grip on everything you need to know to write a song, from learning to listen to your "inner voice" to creating a "mood" and everything in between Jaunt around the genres — discover the variety of musical genres and find your fit, whether it's rock, pop, R&B, gospel, country, or more Let the lyrics out — master the art of writing lyrics, from finding your own voice to penning the actual words to using hooks, verses, choruses, and bridges Make beautiful music — find your rhythm, make melodies, and use chords to put the finishing touches on your song Work the Web — harness online marketing and social networks like Facebook, Twitter, and others to get your music heard by a whole new audience Open the book and find: What you need to know before you write a single note Tips on finding inspiration Ways to use poetic devices in lyrics Computer and Web-based shortcuts and technologies to streamline songwriting A look at famous songwriting collaborators Writing for stage, screen, and television How to make a demo to get your song heard Advice on how to make money from your music P.S. If you think this book seems familiar, you're probably right. The Dummies team updated the cover and design to give the book a fresh feel, but the content is the same as the previous release of Songwriting For Dummies (9780470615140). The book you see here shouldn't be considered a new or updated product. But if you're in the mood to learn something new, check out some of our other books. We're always writing about new topics!
Explore Book
Buy On Amazon