Marriage & Long-term Relationships
Here you'll find straightforward articles on how to find — and keep — your soulmate.
Marriage & Long-term Relationships
Books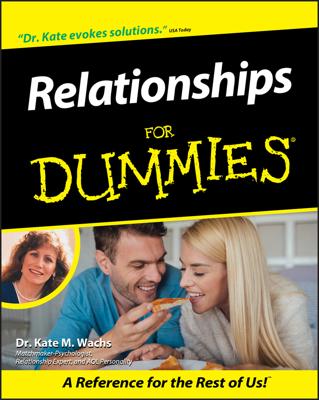 Marriage & Long-term Relationships
Relationships For Dummies
"Follow the advice of the top romance specialist, and you can't go wrong." —Woman's World "She's interviewed with Oprah and Phil Donahue, Time, the New York Times, USA Today, the Washington Post, Redbook and Cosmopolitan. Clearly Dr. Kate engages in no false advertising—she's a nationally acclaimed relationship expert." —Chicago Tribune Let's face it, making a relationship work takes patience, perseverance, energy, and an unflagging commitment to maintain a happy healthy relationship. And sometimes, it takes a little help from a wise and knowledgeable friend. Written by celebrated psychologist-matchmaker, Dr. Kate Wachs, Relationships For Dummies is a source of inspiration and ideas on how to find and keep a healthy relationship. Whether you've just started dating or have been together with that special someone for years, Dr. Kate can help you: Tell the difference between a healthy and an unhealthy relationship Have a more loving, fun-filled relationship Enjoy a more vibrant and satisfying sex life Work through most relationship problems Find the positive and the fun in every relationship stage Dr. Kate explodes common relationships and compatibility myths that cause people grief, and with the help of insightful quizzes, case studies, and real-life America Online letters Dr. Kate covers all the bases, including: Finding that special someone and knowing if it's really Mr. or Ms. Right Pacing and nurturing intimacy in the early stages of a relationship When, where, how, and with whom to have sex when dating Knowing when and if it's time to move in together When and if to get married Keeping psychological and emotional intimacy alive Keeping physical and sexual intimacy alive From compatibility to communication, commitment to connecting in the bedroom, Relationships For Dummies is your total guide to having the relationships you want and deserve.
Explore Book
Buy On Amazon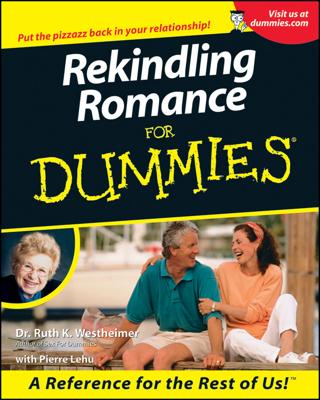 Marriage & Long-term Relationships
Rekindling Romance For Dummies
"Her energy level is higher than a charged particle." —People "Her manner is down-to-earth and reassuring.... She tries to make people feel better, value themselves, trust their instincts." —Ladies' Home Journal In today's world of instant gratification people have lost the knack for keeping romance alive. Rather than take the time to rekindle the flame that once burned so brightly, we let the fire die out, thinking we'll find something more lasting with someone else. Often, the result is that we find ourselves repeating the same pattern over and over again or giving up on romance altogether. But true romance never really dies it only goes into hibernation, waiting for somebody to wake it up. Are you bored with your relationship? Does your love life seem routine? Don't throw in the towel! Let "Americas star sexologist" (TV Guide), Dr. Ruth Westheimer shows you how to inspire a romantic Renaissance in your relationship. With the help of self-exams and easy exercises, she shows you how to: Rate the romance in your relationship Renew respect and commitment Spice up your sex life Find time for Romance in everyday situations Plan a romantic getaway Full of straight-talk about real-life relationship issues and peppered with helpful and inspiring anecdotes from her years couples counseling, Rekindling Romance For Dummies helps you: Find the sources of stress in your relationship and address them constructively Discover the importance of communication in overcoming potential sore spots Understand the roles that conflict and mutual respect play in a successful relationship Use proven techniques for strengthening your relationship, including renewal ceremonies, romantic escapes, and more Overcome boredom and insecurity in the bedroom and supercharge your sex-life together, well into your golden years Work through common stresses that can afflict romance, including financial conflict, pregnancy, and childrearing Recognize how common medical problems can impact the state of your relationship and know when to seek professional help Don't let a good thing fade away. Let Dr. Ruth show you how to "embrace the art of romance" and keep the fire burning in your relationship.
Explore Book
Buy On Amazon
Marriage & Long-term Relationships
Making Marriage Work For Dummies
The inspiration for countless one-liners, witty sayings, stage farces and not a few murder mysteries, marriage is more than just a relationship between two people. It's one of life's biggest adventures and a healthy marriage can be one of life's greatest gifts. But weathering the stresses and strains of married life and maintaining healthy marital bonds over a span of decades takes work, and sometimes you need help from a friendly expert. Which is where Making Marriage Work For Dummies comes in. Drawing on their experiences with thirty years of marriage, during which they raised three children, as well as decades of couples counseling, experts Steven and Sue Simring show you how to build a strong, happy and long-lasting marriage. They offer priceless tips on how to deal with most problems that come up between married couples, and they offer advice on how to: Make your relationship more romantic Work out big and small differences Argue in ways that strengthen you relationship Resolve disputes over money Cope with mid-life change Handle a spouse who cheats Deal with families and in-laws Reduce stress on your marriage Understand your partner's annoying habits and quirks Balance career and family goals Seek professional help when you need it Illustrating their points with insightful, often amusing anecdotes from their own marriage and from the marriages of hundreds of couples they've counseled over the years, the Simrings explore such crucial topics as: Deciding if marriage is right for you Six common marriage myths Understanding the roots of marital problems Communicating with your partner The do's and don'ts of fair marital fighting Making marriage sexy Examining the marriage life cycle Ideas for resolving money differences Succeeding with remarriage Filled with ideas you can use now to keep your marriage as strong as the day you took your vows, this is a survival guide for everyone committed to making marriage work.
Explore Book
Buy On Amazon