Latin
Yes, it's a dead language, but it's the foundation for the Romance languages millions of people speak in Europe and beyond.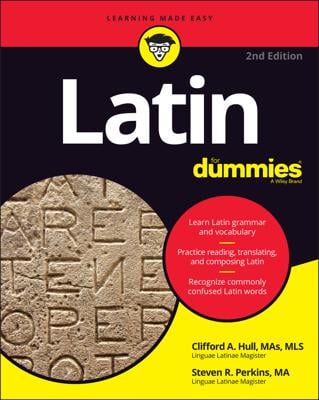 Latin
Latin For Dummies
Published 05-03-2022
Master the basics of a lyrical and useful language Even though most people don't use Latin anymore, it used to be spoken by millions of people from across the ancient world. It later morphed into new languages we still use today! In Latin For Dummies, you'll take a tour through the language of ancient Rome. Beginning with Latin you may already know, like "carpe diem" and "quid pro quo," the book walks you through essential Latin grammar and everyday Latin phrases. It also explores how Latin shaped and molded modern languages, including English. In this book, you'll find: Lessons to learn Latin grammar and vocabulary Practices for reading, translating, and composing Latin Tips to recognize commonly confused Latin words Latin For Dummies proves that learning Latin, while challenging, can be fun and exciting too! It's perfect for first timers interested in the ancient language and anyone who wants to learn more about ancient Roman history and culture.
Explore Book
Buy On Amazon