Islam
These articles get you the info you need on one of the most widely followed religions in the world including Islam's different sects, central parts of the Koran, and more.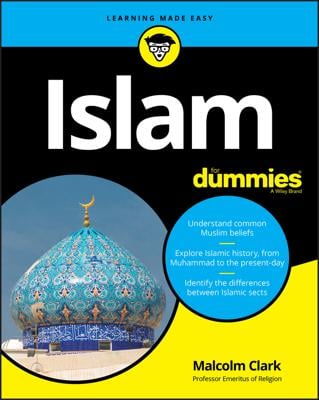 Islam
Islam For Dummies
From the Qur'an to Ramadan, this friendly guide introduces you to the origins, practices and beliefs of IslamMany non-Muslims have no idea that Muslims worship the same God as Christians and Jews, and that Islam preaches compassion, charity, humility, and the brotherhood of man. And the similarities don't end there. According to Islamic teaching, Muhammad founded Islam in 610 CE after the angel Gabriel appeared to him at Mecca and told him that God had entered him among the ranks of such great biblical prophets as Abraham, Moses, and Christ. Whether you live or work alongside Muslims and want to relate to them better, or you simply want to gain a better understanding of the world's second largest religion, Islam For Dummies can help you make sense of this religion and its appeal, including: Muhammad, the man and the legend The Five Pillars of Wisdom The Five Essentials beliefs of Islam The different branches of Islam and Islamic sects The Qur'an and Islamic law Islam throughout history and its impact around the world Professor Malcolm Clark explores the roots of Islam, how it has developed over the centuries, and it's long and complex relationship with Christianity. He helps puts Islam in perspective as a major cultural and geopolitical force. And he provided helpful insights into, among other things: Muhammad, the Qur'an and the ethical teachings of Islam Muslim worship, customs, and rituals surrounding birth, marriage, and death Shi'ites, Sunnis, Sufis, Druze, and other important Muslim groups Islam in relation to Judaism and Christianity In these troubled times, it is important that we try to understand the belief systems of others, for through understanding comes peace. Islam For Dummies helps you build bridges of understanding between you and your neighbors in the global village. P.S. If you think this book seems familiar, you're probably right. The Dummies team updated the cover and design to give the book a fresh feel, but the content is the same as the previous release of Islam For Dummies (9780764555039). The book you see here shouldn't be considered a new or updated product. But if you're in the mood to learn something new, check out some of our other books. We're always writing about new topics! .
Explore Book
Buy On Amazon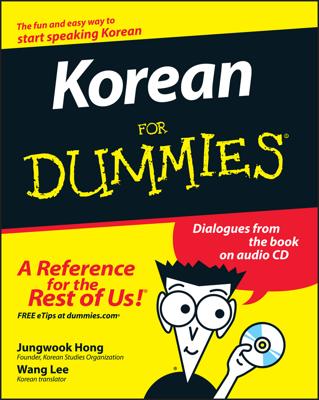 Islam
Korean For Dummies
Studying Korean for business or travel? Learn the fun and easy way with this practical guide that teaches the basics of the Korean language and culture Korean For Dummies is a no-nonsense guide to Korean culture and the basics of Korean language. Pick up basic phrases and commonly used words so that you can converse with Koreans in both business and personal situations. You'll learn Korean for everyday life and task-specific expressions for Korean on the go. In addition, you'll discover important and fascinating aspects of Korean culture. This handy guide won't burden you with lists of grammar rules; just look up the phrases and cultural phrases you need or read through the whole book for a general overview. You'll be able to place material in a daily context with cultural tidbits, phonetic spelling of Korean words, and the recorded Korean dialogues on the accompanying CD. Chapter-based exercises will jog your memory and reinforce everything you learn (answers are provided in an appendix). Find out how to: Use basic phrases and words correctly Converse intelligently about Korean culture Do business with a Korean company Say task-specific expressions Pronounce Korean words Put material in a real-world context Make a good first impression with Koreans This book has four top ten lists to help you learn even more about Korean culture and language: Tips for learning Korean quickly Phrases that will help make you sound Korean Expressions that Koreans like to use Things to avoid doing in Korea or around a Korean This practical guide includes an appendix on Korean verbs, a Korean-English mini-dictionary, and a list of what's on the CD. Get your copy of Korean For Dummies to begin speaking basic Korean and understanding the fundamentals of Korean culture.
Explore Book
Buy On Amazon
Islam
The Koran For Dummies
With the current turmoil in the Middle East, there is a growing interest about Islam—the world's second largest religion and one of the fastest growing—and its holy book, the Koran (or Qur'an). Now, with this easy-to-follow, plain-English guide, you can explore the history, structure, and basic tenets of Islam's sacred scripture. The Koran For Dummies is for non-Muslims interested in the Koran as well as Muslims looking to deepen their understanding. Islamic scholar Sohaib Sultan provides a clear road map, revealing: The meaning of Koran and its basic message The Koran's place in history and in Islamic spiritual life Explanations of its language, structure, and narrative style How to live by the Koran's teachings The Koran's role in key global issues, such as Jihad vs. terrorism Different interpretations of the Koran No other book provides such a straightforward look at what the Koran says, how it says it, and how believers live according to its guidance. From how the Koran was received by Mohammed and how it was compiled to how it's interpreted by Islam's two main branches, you'll see how to put the Islamic faith in perspective. Plus, you'll discover: What the Koran really says about women and civil law How Islam relates to Judaism and Christianity The Koran's view of God, prophets, mankind, and the self How its teachings are lived and recited every day by devout Muslims Common misconceptions of the Koran How to raise a family the Koranic way Complete with lists of important passages, Koranic terminology, famous quotes, and further reading resources, The Koran For Dummies makes it easy and enjoyable for you to grasp the teachings and significance of Islam's holy book.
Explore Book
Buy On Amazon