Irish History
Trace each era in Ireland's stormy history to uncover the heart of this fascinating island nation.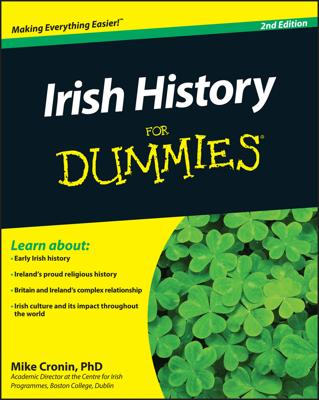 Irish History
Irish History For Dummies
From Norman invaders, religious wars—and the struggle for independence—the fascinating, turbulent history of a tortured nation and its gifted people When Shakespeare referred to England as a "jewel set in a silver sea," he could just as well have been speaking of Ireland. Not only has its luminous green landscape been the backdrop for bloody Catholic/Protestant conflict and a devastating famine, Ireland's great voices—like Joyce and Yeats—are now indelibly part of world literature. In Irish History For Dummies, readers will not only get a bird's-eye view of key historical events (Ten Turning Points) but, also, a detailed, chapter-by-chapter timeline of Irish history beginning with the first Stone Age farmers to the recent rise and fall of the Celtic tiger economy. In the informal, friendly For Dummies style, the book details historic highs like building an Irish Free State in the 1920s—and devastating lows (including the Troubles in the '60s and '70s), as well as key figures (like MP Charles Parnell and President Eamon de Valera) central to the cause of Irish nationalism. The book also details historic artifacts, offbeat places, and little-known facts key to the life of Ireland past and present. Includes Ten Major Documents—including the Confession of St. Patrick, The Book of Kells, the Proclamation of the Irish Republic, and Ulysses Lists Ten Things the Irish Have Given the World—including Irish coffee, U.S. Presidents, the submarine, shorthand writing, and the hypodermic syringe Details Ten Great Irish Places to Visit—including Cobh, Irish National Stud and Museum, Giants Causeway, and Derry Includes an online cheat sheet that gives readers a robust and expanded quick reference guide to relevant dates and historical figures Includes a Who's Who in Irish History section on dummies.com With a light-hearted touch, this informative guide sheds light on how this ancient land has survived wars, invasions, uprisings, and emigration to forge a unique nation, renowned the world over for its superb literature, music, and indomitable spirit.
Explore Book
Buy On Amazon