Fantasy Sports Books
Make this your best fantasy season ever (even if it's your first). We'll help you ace your draft picks, trade strategically, avoid mistakes, and come out on top.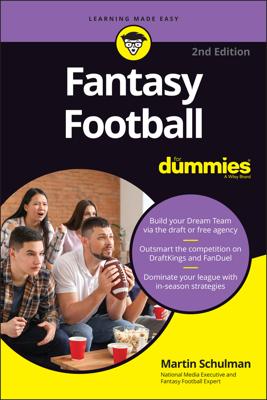 Fantasy Football
Fantasy Football For Dummies
Get in the game and start building your dream team Millions of people worldwide play fantasy football, and you can join the fun with Fantasy Football For Dummies. We'll teach you the basics and give you the skills you need to create and manage your ultimate fantasy team. Learn how to scout and draft players, use the best strategies to compete against other fantasy owners, and win your fantasy league championship. You can easily manage your team and stay up to date on player stats with the how-tos and insider tips in this book. Check out this fun and entertaining guide to fantasy football and you'll be on your way to becoming a successful fantasy team owner, manager, and coach. Understand how fantasy football works Learn about the various fantasy league options Draft and manage your fantasy team, and change your roster effectively week to week Maximize your chances of winning with effective tips and strategiesThis Dummies guide—updated with the latest apps and rule changes—is for the millions of people who are already playing fantasy football today and want to improve their fantasy league performance, and it's perfect for beginners interested in joining a league and learning the basics. Yes—that means you!
Explore Book
Buy On Amazon